Emergency Department
We have two Emergency Departments in the Western Trust. One in Altnagelvin Hospital, Londonderry and one in South West Acute Hospital, Enniskillen.
Our Emergency Departments provide urgent and emergency medical services to the community. We are operational 24 hours a day, seven days a week.
Within the departments we have a resuscitation area where we see the sickest patients, a majors area and an ambulatory area within which our minor injury service is provided.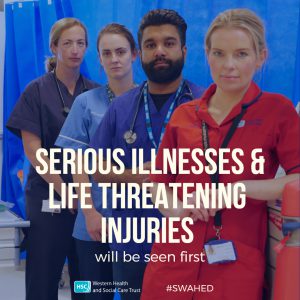 Attending the Emergency Department
On your arrival to the department please book in at reception. All patients will then be triaged by a trained nurse.
You may have to wait longer than we would like. Patients will be seen in order of medical priority and service required rather than time of arrival into the department.
If you are attending when our Emergency Department is busy, and if it is possible for you, we ask that you bring only one family member or friend to avoid overcrowding in our waiting areas.
We do not give out waiting times or medical advice over the phone. We are a busy department and these phone calls may interrupt our clinical care of sick patients. If you feel it is an emergency then please attend the department.
Urgent Care and Treatment Centre
The Urgent Care and Treatment Centre (UCTC) at the Omagh Hospital and Primary Care Complex is a Nurse-led Minor Injuries Unit which is operational 24 hours a day and is fully supported by 24/7 x-ray facility.
The team consists of Emergency Nurse Practitioners who will see, treat and discharge the full range of presenting minor injuries. Minor injuries include:
Minor head injuries, where there has been no loss of consciousness
Scalp wounds
Facial injuries, which include eye injuries e.g. – Foreign body in eye
Suturing for minor wounds
Eye infection
Shoulder, arm, hand sprains and fractures
Lower limb sprains and fractures, all of which can be x-rayed on site and treated appropriately and referred for follow up at outpatient clinics
Bites, stings, skin infections
Receive patients with chest pain and refer to the adjacent Cardiac Assessment Unit
The staff receive telephone advice from Emergency Department Consultants in both the South West Acute and Altnagelvin Hospitals and use tele-medicine to assist with diagnosis.
Telephone advice is also available 24/7 by contacting 028 8283 3169.
Further Information
Out of Hours Services
Emergency Department Waiting Times
---
Locations where this service is delivered