What's on?

What is On? and Events Listing
for Adult Learning Disability Services in the Western Trust Region
To have relevant events posted here, email details to:
Deirdre.Kelly@westerntrust.hscni.net or Jonathan.Mcguigan@westerntrust.hscni.net
---
May 2022
Information Session – LD Community Access Workers
There is an information session on Adult Learning Disability Community Access Workers being held on 26th May at 7.00pm via Zoom. If you wish to attend please contact Jonathan on:
Email: jonathan.mcguigan@westerntrust.hscni.net or telephone: 028 8283 5124
Learning Disability Community Access Workers Margaret McDaid and Wendy Bonner will present on the evening about their roles.
---
Friends Together Choir – Summer Concert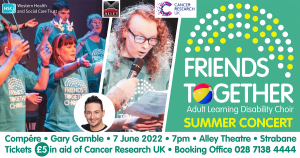 The 'Friends Together' Adult Learning Disability Choir are delighted to announce their upcoming Summer Concert.
The concert will take place at the Alley Theatre, Strabane on 7th June 2022 at 7PM.
Tickets cost £5 with all proceeds going to Cancer Research.
Come along and enjoy a wonderful evening of music and support this worthwhile charity.
For tickets contact the Alley Theatre Ticket Office: 028 7138 4444
---
Valley Centre Recent Activities
Service Users at the Valley Centre have taken part in a range of activities recently including trips to the cinema, going for lunch, dancing and baking cakes.
---
Benbradagh Day Centre Recent Activities
---
Experiences of Social Work
Have you or someone you know engaged with Social Work services in Northern Ireland? We are keen to learn from the experiences of people of all ages who have used social work services, have cared for someone who has used them or are close to someone who has used them. The data collected will be used to inform practice and service improvement and social work training.
The survey can be accessed through the website www.10000morevoices.hscni.net
You can request a printed copy by contacting us: Call: 02895 362868 (office hours) or email 10000morevoices@hscni.net
All data collected will be anonymous.
You can download the survey below:
---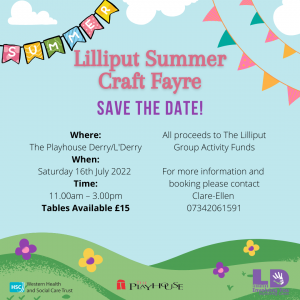 Lilliput Summer Craft Fayre
Save the Date: Saturday 16th July 2022
11am – 3PM at The Playhouse Derry/Londonderry
Tables Available for £15
All proceeds to Lilliput Group Activities Funds
For more information or to book a table contact Clare Ellen on 07342061591
---
Tuned In Project 
The Tuned In Project uses the digital and creative arts, media and music to support people with Learning Disabilities to be different.
To find out more, visit the Tuned In Project Website.
---
Leonard Cheshire in NI
Leonard Cheshire help graduates with long term conditions or disabilities to secure placements with leading NI companies. More information.
---
ARC NI – TILII TV Questionnaire
ARC NI are seeking your help. We are looking to understand what you think about TILII TV.
Click here for the short Easy Read Questionnaire.
---
NOW Group – Funded Short Academies 16+
Including expenses, completion bonus and support into employment.
Upskill, Retrain and Gain Qualifications in:
Tourism
Hospitality
ICT
Data Analytics
Cyber Security
Click here to register your interest.
Specially delivered to assist people with learning difficulties, hidden disabilities or neurodiverse conditions. Subject to eligibility requirements.
---
NCEPOD – Moving from Child to Adult Healthcare Services (Transition)
NCEPOD is a national organisation that uses data to help improve the quality of care for future patients in the UK. For this work they are collecting data on young people between 13 and 24 years old.
If you are a young person, parent/carer of a young person, who has moved from child to adult healthcare services, and would like to take part in a group discussion, or fill in an online survey to
share your experiences to help future patients, please contact us by post, phone or email:
transition@ncepod.org.uk Please ask permission from your parent/carer if you are under 16*
---
Patient Client Council – Opportunities to Get Involved 
Calling all those who have a learning disability and use services. A chance to tell us your ideas about how YOU want to be supported and how you think health and social care services can be better for YOU. There are different things to do with Learning Disability services that you might want to talk to us about. Our staff are experienced in working alongside YOU to support and make sure YOU HAVE YOUR SAY. If YOU would like to join this group, call Suzanne Collins, Projects Co-Ordinator 07423 810015 or email suzanne.collins@pcc-ni.net . Click Here to view the flyer.
---
Planning for the Future Seminars 2022
Seminars for parents, learn how to ensure your child has a fulfilling, financially secure future.
Gain support and information from Mencap's Wills and Trusts Service
Hear from a solicitor who specialises in this area
Hear from other families in a similar situation
Book your place: Click Here or Telephone: 020 7695 6925
Dates below:
February – 3rd/24th     March – 8th/17th/24th/31st       April – 19th/28th       May – 5th / 26th
June – 7th/ 30th        August – 4th       September – 15th/29th       October – 6th/13th/27th
November – 8th/17th/24th        December – 8th
---
Get Out Get Active (GOGA) Programmes
Get Out Get Active (GOGA) Programmes are available in Derry/Strabane. The programme aims to engage people who do not traditionally participate in physical activity, particularly people with a disability.
---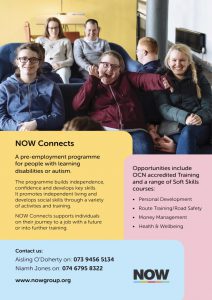 NOW Connects Group
NOW Connects is a pre-employment programme for people with learning disabilities or autism.
The programme builds independence, confidence and develops key skills. It promotes independent living and develops social skills through a variety of activities and training.
NOW Connects supports individuals on their journey to a job with a future or into further training.
Opportunities include OCN accredited Training and a range of Soft Skills courses:
Personal Development
Route Training/Road Safety
Money Management
Health & Wellbeing
Contact:
Aisling O'Doherty : 073 9456 5134
Niamh Jones: 074 6795 8322
Visit the NOW Connects website
---