10,000 Voices
Your chance to influence the future of healthcare
Patient experience is recognised as a key element in the delivery of quality healthcare. In line with this, the Public Health Agency is carrying out an extensive piece of work across all Health and Social Care Trusts, with the aim of introducing a more person-centred approach to services and shaping future healthcare in Northern Ireland.
The Initiative is called 10,000 Voices. Unlike other healthcare questionnaires, we want to read about your overall experience and how this made you feel. It gives you an opportunity to highlight anything important, such as what you particularly liked or disliked about the experience.
Make your voice heard and improve healthcare.
The information is gathered using surveys and can be completed by hard copy or via the internet at http://10000morevoices.hscni.net/. You will be directed to click on one of the links you require.
Vi Gray, Western Trust Facilitator 10,000 More Voices / Patient and Client Experience is available to speak with people individually or collectively as a group to provide further information and support if required.
Surveys
We have a number of surveys currently ongoing at the moment: If you have had an experience in any of the following areas we would love to hear your story:
Experiences of Social Work
Have you or someone you know engaged with Social Work services in Northern Ireland? We are keen to learn from the experiences of people of all ages who have used social work services, have cared for someone who has used them or are close to someone who has used them. The data collected will be used to inform practice and service improvement and social work training.
The survey can be accessed through the website www.10000morevoices.hscni.net
You can request a printed copy by contacting us: Call: 02895 362868 (office hours) or email 10000morevoices@hscni.net
All data collected will be anonymous.
You can download the survey below:
Northern Ireland Ambulance Service – if your experience relates to the Northern Ireland Ambulance Service, please click here.
Staff experience stories to improve patient experience – if you are a member of staff and wish to submit your story please click here.
Health and Social Care in NI – If you have had any other kind of experience within Health and Social care for example in patient services in hospital. Outpatient, Community setting treatment room, Day Care Centre, Care/Treatment provided in own home, Day Procedure/Day Surgery and wish to share your story please click here.
Children's Audiology Services – If your experience relates to children's audiology services please click here.
Life in a Care Home; A Family Perspective – Share your experience as a relative or close friend of someone living in a care home within the Western Trust please click here.
Mental Health – You and Your Experience of Mental Health Services During COVID19 Pandemic – click here.
For further information i.e. hard copies / alternative versions or if you prefer to talk about your experience please contact: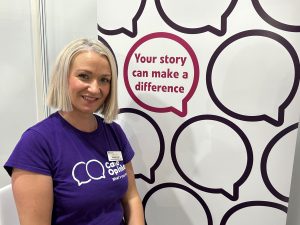 Michelle Scott
Patient Client Experience Lead
Landline: 0287 1345 171 | Ext 214486
Mobile: 0783 3402 847
Emaile: michelle.scott@westerntrust.hscni.net
Watch our video below to see some examples of how your voice helps shape our services.