Pathfinder Health Summit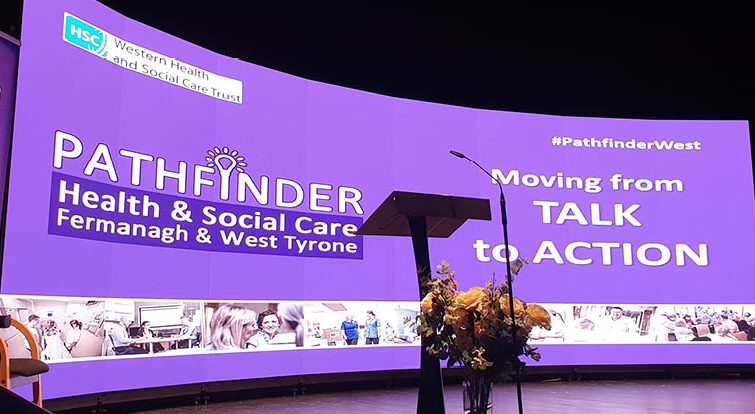 Following one of the most comprehensive community engagement processes ever undertaken by the Western Trust for health and social care, the Pathfinder process has now commenced the next phase of reform in the region as a period of action gets underway.
The latest large-scale engagement event by the Western Trust Pathfinder team was delivered in Enniskillen last week with a regional health summit in the Ardhowen Theatre. This provided an opportunity to present all the latest information and updates on the project to a wide range of stakeholders to be involved in the anticipated reform to enable everyone "to work together to deliver better services for everyone".
More than 180 attendees were presented with information on the engagement journey which included 17 pre-engagement events and 62 engagement sessions at community venues right across the region and very intimate, honest and frank discussions with more than 2,200 people.
There were a host of key headlines emerging from that engagement journey, which included:
Gaps in fundamental services, particular domiciliary care; some communities are more community orientated and resilient than others; there are growing workforce challenges in key staff groups; the Western Trust needs to build a model that moves a system centred around hospitals to a system focused on community strengths; hospital and community services are fragmented and not well connected and there is a need to refine 'Pathways' to achieve a greater synergy of services.
This community and staff engagement also highlighted the fact that services are currently struggling to meet need and the importance of ensuring greater cohesion between health and other agencies – particularly with road services, rural transport, broadband and education.
A major aspect manifesting from all the discussions from the community was levels of concern around the resilience of primary care services while the importance of building links with the education sector through post primary schools, second level colleges, universities, learning communities and going back to the basic promotional element of delivering important positive messages to our younger people in primary schools. The latter element of the Pathfinder project will get underway from May with the creation of Health Champions Teams in primary schools and linking in with the new Western Trust Hidden Heroes campaign and highlighting the importance and significance of a career in health and social care, which will be launched in May 2019.
Health summit sessions
There were two sessions at the Pathfinder Health Summit – a morning and an afternoon session – giving more people the chance to hear from a number of experts from the Western Trust, the local council and the Public Health Agency, as well as special guest Professor Rafael Bengoa, who spoke about his experiences in the health sector and welcomed the engagement work that was being done in the region.
Statistics that were presented gave a picture of the health of people living across the Fermanagh and West Tyrone area. The audience also heard from speakers who currently work in various schemes and initiatives to help people live better, fuller and healthier lives. They included Jenny Irvine from the ARC Healthy Living Centre, who discussed Connected Communities and how to encourage and grow social capital, and Rachel Armstrong, a nurse practitioner who spoke about the Western Trust's Older Persons Liaison Service. A question and answer session enabled audience members to participate and ask the panel their views.
To view the full presentation from the morning session A and afternoon session B click on the buttons below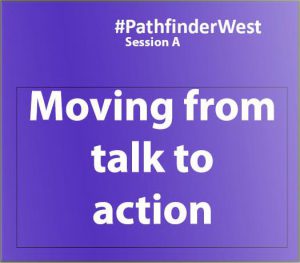 Session A – Moving from Talk to Action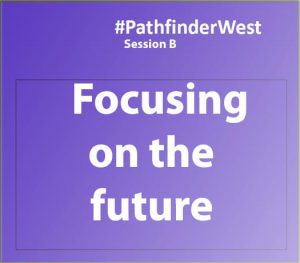 Session B – Focusing on the Future
The Pathfinder team produced a booklet with information on all of the speakers on the day as well as our Experts By Experience.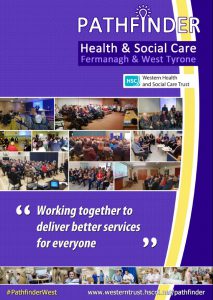 ---
Experts by Experience
April 2019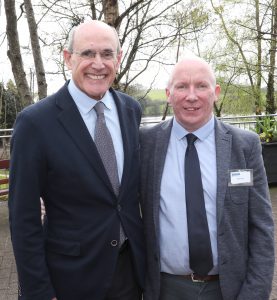 Joey Kelly, one the Pathfinder Experts by Experience, said the summit was a fantastic day: "It was very well presented, informative, the statistics were great, I was shocked by them.
"To be there in the company of Professor Bengoa who compared us to other countries reaching out to communities in the same way, was all so positive. To know that this project was one of the first in the north and thinking that other countries such as Sweden and Spain are contemplating doing similar projects is fantastic."
Joey got a chance to speak to Professor Bengoa (see picture right) and said he was a lovely man. "He said to me don't try and tackle more things than necessary, don't try and do everything at once, but target what you know you can change."
He commented that the Experts by Experience were a very different group of personalities but that this was a good thing for the process, bringing varying experiences and views to the table.