Carers Support

Click on the tabs below for more information on support available to Carers.
---
Information Sessions via Zoom
In response to requests from Carers, the Western Trust Adult Learning Disability Involvement team will facilitate a schedule of Information sessions for Carers of Adults with a Learning Disability in the Western Trust area.
The topics will be:
30th September – Occupational Therapy with Dr Shelley Crawford, Occupational Therapy Service Lead for Learning Disability and Louise McGurk Occupational Therapist.
17th November – Learning Disability Community Nursing with Glenda Frazer and Kirsty Mitchell.
30th November – Positive Behaviour Support Services with Dr Joanne Quinn Consultant Clinical Psychologist and Donna O'Neill Behaviour Therapist.
To allow information to be tailored, we will ask participants to submit general questions relating to each topic, to Jonathan McGuigan, before the Session takes place.
If you are interested in attending and have any questions or areas of information you would like covered in the presentation please contact:
Jonathan McGuigan at jonathan.mcguigan@westerntrust.hscni.net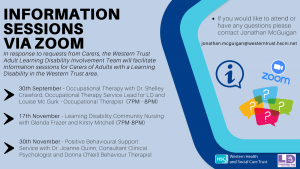 ---
What would you like to see in the future role of learning disability nurses?
Families Involved NI is supporting the professional learning disability nursing leads, within the Department of Health, to gain more insights from families of people with learning disabilities (children and adults) on their experiences of Learning Disability Nursing across Northern Ireland.
This survey is your opportunity to share your past experiences but more importantly give your thoughts and ideas on how this important role can be shaped for the future.
Making sure that our people with learning disabilities can access and receive health care like every other person is important throughout their lives.
Thank you for taking the time to complete the survey in the link below. Please share with your contacts or other families that would be interested.
https://www.smartsurvey.co.uk/s/AJHH56/
If you wish to have a hard copy of the survey for completion, then please email RNLD.Review@health-ni.gov.uk or telephone Monday or Wednesday (9am-12.30pm) 02890 522026
---
Patient and Client Council Opportunities to Get Involved
Regional Disability Forum for Health and Social Care – Forum for people with a physical/sensory disability and/or communication difficulty. Applications close Friday 10th November. Visit – makechangetogether.co.uk
Obesity Prevention – The Department of Health are pulling together a project board for developing our next strategy for tackling obesity. Seeking 2 people living with obesity or who have experience of using obesity prevention who would like to join the project board to represent people with lived experience. Visit – makechangetogether.co.uk
Have you been to an Emergency Department recently?
As part of the Review of Urgent and Emergency Care services the PCC invite you to share your thought on any recent experiences at one of the following sessions:
Monday 1st November: 6:30pm – 8:00pm
Wednesday 3rd November 10:00am – 12:30pm
Wednesday 3rd November 2:00pm – 4:00pm
To register please contact Jane: jane.reilly@pcc-ni.net or 028 9536 1705
Future Planning Model
You are invited to attend our 'Health and Social Care Hub' on Tuesday, 9 November 2021 at 10:00am
The session will be facilitated by Gerard McWilliams Involvement Officer and Sorcha Forbes at the Patient and Client Council.
This month's theme is Future Planning.
Due to the closure and migration of the Health and Social Care Board (HSCB) to a new entity within the Department of Health, a new planning model must be designed and
implemented. As a result, many statutory provisions around commissioning will be removed, and this has provided an opportunity to fundamentally change the way in which services are planned, managed and delivered for the people of Northern Ireland.
---