Personal Information
Our duty to you
Everyone working for the Western Health and Social Care Trust has a legal duty to keep information about you confidential, as does anyone who receives information about you from the Trust. We will process your personal information in accordance with the General Data Protection Regulation (GDPR) and the Data Protection Act 2018.
Why we need information about you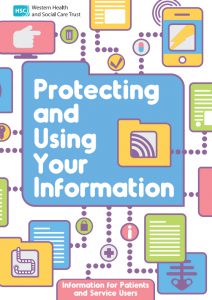 We ask you for information about you so that we can give you proper care and treatment and plan services for you. We keep this information in your notes and on our systems because it may be needed if we see you again.
Other reasons for which your information may be needed include:
Helping to review the care given to you to ensure it is of the highest standard. This is done through internal audits of our standards or external inspections of our services
Training and educating staff
Looking after the health and social welfare of the general public
Investigating complaints or legal claims.
Preparing statistics on the Trust's activity and performance
To find out more about how we protect and use your information please see the Trust Privacy Notice
Read the Western Trust Privacy Notice.
Getting access to your personal information
If you want to see the information we hold about you or ask about how we use it, you can speak to the person in charge of your care or you can request a copy of your information.
There will be many occasions when staff involved in your care or treatment can appropriately share information about your care with you. However if you wish to request a copy of your own Health and Social Care records or to apply on behalf of another living individual, you can do so by making a 'subject access request'. You can request your information verbally; however to make it easier for you to provide all the details we might need to help locate the information you want, we would ask that you complete the relevant application form, available below.
Please note there is separate legislation and different application forms for applying for the records of a 'living individual' or those of a 'deceased person'.
To apply for access to

your own

health and social care records or when you have the authority to apply on behalf of another

living

person – click here
To apply for access to

healthcare

records of a

deceased

former patient – click here
You can also ask us to send you a blank Application Form by telephoning 028 8283 5440.
A letter of request from your solicitor along with your written, signed consent is also acceptable.
Before completing the relevant form we would recommend that you also read the guidance notes attached to the application.
When sending us your completed application, please ensure you also provide any relevant additional documents as indicated on the relevant Form (i.e. proof of identification, written consent, and/or other legal documentation). These documents are necessary to validate your request.
In most cases, access to personal information is provided free of charge; however the Trust reserves the right to charge a fee or to refuse to respond to a request that is manifestly unreasonable or excessive. For this reason please ensure your request for information is as concise and focused as possible.
Please remember to sign and date the Application Form and provide a return postal address. If necessary, we will contact you to clarify what records you require.
The UK General Data Protection Regulation allows up to 90 days for providing a response to complex requests for records of living individuals. As requests for medical and social work records require review by clinical/social care professional staff, the majority of requests will be deemed to be complex and will take up to 90 days to respond to. Requests that are not deemed to be complex will be responded to within 30 days (e.g. a request for a single report or attendance record). If you require information by a particular date or for a particular reason, you are asked to allow sufficient time for your request to be processed.
For a valid request from those with authority to access a deceased person's healthcare records, this will be processed under the terms of the Access to Health Records (NI) Order 1993 which allows up to 40 days for providing a response. Please see the notes on the Form for details on who can make such a request.
Please contact us if you have any queries about these processes or about completing either of the Application Forms. Contact details are on the forms.