Organ Donation
Our Service
There are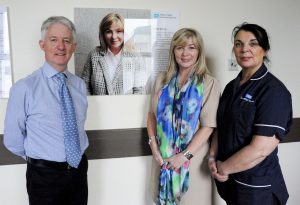 approximately 140 people in N. Ireland and 6,000 people in the United Kingdom waiting for life-saving transplants. Unfortunately, every year approximately 15 people in Northern Ireland and approximately 1000 patients in the U.K. die waiting for a transplant.  That equates to three patients dying every day.
These deaths are avoidable and transplants save lives.
Between 1 April 2018 and 31 March 2018 there were eight deceased organ donors in the Western Trust area resulting in 19 patients receiving a transplant.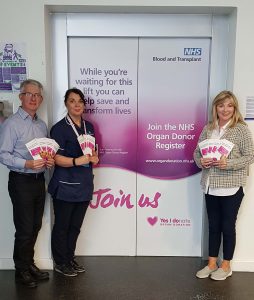 Specialist Nurses in Organ Donation, Maria Coyle and Noelle Melarkey and Dr. Declan Grace, Lead Clinician for Organ Donation have been working to increase awareness of the importance of organ donation. We want to ensure that organ and tissue donation is considered as a matter of routine practice thereby ensuring that patients who may potentially donate are given the opportunity to so do.
Throughout the year we avail of every opportunity to promote organ donation most noticeably during Organ Donation Week which is the first week of September annually. Among the many promotional initiatives conducted we installed the eye-catching Organ Donation posters on doors of lifts in Altnagelvin Hospital.
In collaboration with our local district Councils, we illuminated various Council premises in 'Organ Donation Pink'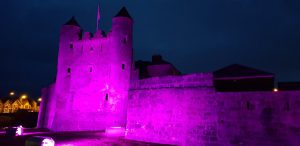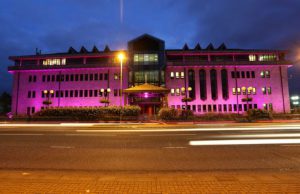 The percentage of the adult population in N. Ireland registered as potential donors has increased significantly in recent years and is currently 46%.  This is very encouraging and we want to ensure that as many people as possible register as potential organ donors.  Having registered it is vital that individuals inform their family of their decision as following death next of kin are always consulted about the individual's wishes.
How to register?
There are many ways to register as a potential donor and we would encourage every member of staff to consider doing so.
Register online at www.organdonation.nhs.uk or www.organdonationni.info
Register when applying for or renewing a Driving Licence.
Register when registering with a G.P Practice.
Telephone the N.H.S. Donor Line 0300 123 23 23. Telephone lines are open 24 hours a day all year round.
Download a form from www.organdonation.nhs.uk, print it and return it by Freepost
Register when applying for a Boot's Advantage Card.
Remember – Every donor matters.
With your assistance we can and we shall save many lives.

Further useful information may be obtained at www.organdonationni.info and at www.organdonation.nhs.uk
Further Resources
---
Locations where this service is delivered
---
Contacts
Maria Coyle - Organ Donation Specialist Nurse
Altnagelvin Area Hospital, Glenshane Road, Derry/Londonderry, BT47 6SB
Noelle Melarkey - Organ Donation Specialist Nurse
South West Acute Hospital, 124 Irvinestown Road, Enniskillen, BT74 6DN