What's on?

What is On? and Events Listing
for Adult Learning Disability Services in the Western Trust Region
To have relevant events posted here, email details to:
Deirdre.Kelly@westerntrust.hscni.net or Jonathan.Mcguigan@westerntrust.hscni.net
---
October 2021
Patient and Client Council Opportunities to Get Involved
Obesity Prevention – The Department of Health are pulling together a project board for developing our next strategy for tackling obesity. Seeking 2 people living with obesity or who have experience of using obesity prevention who would like to join the project board to represent people with lived experience. Visit – makechangetogether.co.uk
Urgent and Emergency Care – The PCC invite you to share your thoughts on any recent experiences at any Urgent and Emergency Care service. You can attend our 'Health and Social Care Hub' on Wednesday 6th October at 10am – This session is open access and aims to be accessible for those with communication difficulties.
---
Information Sessions via Zoom for Carers
In response to requests from Carers, the Western Trust Adult Learning Disability Involvement team will facilitate a schedule of Information sessions for Carers of Adults with a Learning Disability in the Western Trust area.
The topics will be:
30th September – Occupational Therapy with Dr Shelley Crawford, Occupational Therapy Service Lead for Learning Disability and Louise McGurk Occupational Therapist.
17th November – Learning Disability Community Nursing with Glenda Frazer and Kirsty Mitchell.
30th November – Positive Behaviour Support Services with Dr. Joanne Quinn Consultant Clinical Psychologist and Donna O'Neill Behaviour Therapist.
To allow information to be tailored, we will ask participants to submit general questions relating to each topic, to Jonathan McGuigan, before the Session takes place.
If you are interested in attending and have any questions or areas of information you would like covered in the presentation please contact:
Jonathan McGuigan at jonathan.mcguigan@westerntrust.hscni.net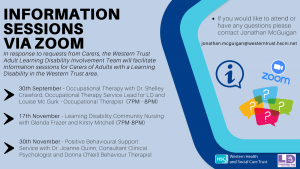 ---
Department of Health Autism Strategy 2023-2028 Questionnaire
You may be an autistic person or a family member or carer of someone who has an autism diagnosis or waiting for an assessment.  You may be involved in education, community life or service delivery.  We want you to tell us how we can develop a strategy which can make a difference. More information.
All responses must be received no later than Friday 8 October 2021.
Should you require further information, please send your enquiry to: autism.strategy@health-ni.gov.uk
Complete the Questionnaire here
---
November 2021
Patient Client Council – Opportunities to Get Involved 
You are invited to attend our 'Health and Social Care Hub' on Tuesday, 9 November 2021 at 10:00am
The session will be facilitated by Gerard McWilliams Involvement Officer and Sorcha Forbes at the Patient and Client Council.
This month's theme is Future Planning.
Due to the closure and migration of the Health and Social Care Board (HSCB) to a new entity within the Department of Health, a new planning model must be designed and
implemented. As a result, many statutory provisions around commissioning will be removed, and this has provided an opportunity to fundamentally change the way in which services are planned, managed and delivered for the people of Northern Ireland.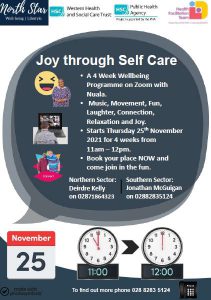 ---
Joy through Self Care Programme 
A wellbeing programme for Adults with a Learning Disability – 'Joy through Self Care' is taking place again in November.
The programme will be hosted via Zoom, from 11AM – 12:00PM every Thursday for 4 weeks starting on November 25th.
Places are available on a first come first serve basis for individuals or groups of Adults with a Learning Disability.
For more information or to register, please contact:
Northern Sector – Deirdre Kelly – 028 7186 4323 or email deirdre.kelly@westerntrust.hscni.net
Southern Sector – Jonathan McGuigan 028 8283 5124  or email jonathan.mcguigan@westerntrust.hscni.net
---
Patient and Client Council Opportunities to Get Involved
Regional Disability Forum for Health and Social Care – Forum for people with a physical/sensory disability and/or communication difficulty. Applications close Friday 10th November. Visit – makechangetogether.co.uk
Have you been to an Emergency Department recently?
As part of the Review of Urgent and Emergency Care services the PCC invite you to share your thought on any recent experiences at one of the following sessions:
Monday 1st November: 6:30pm – 8:00pm
Wednesday 3rd November 10:00am – 12:30pm
Wednesday 3rd November 2:00pm – 4:00pm
To register please contact Jane: jane.reilly@pcc-ni.net or 028 9536 1705
---
Get Out Get Active (GOGA) Programmes
Get Out Get Active (GOGA) Programmes are available in Derry/Strabane. The programme aims to engage people who do not traditionally participate in physical activity, particularly people with a disability.
---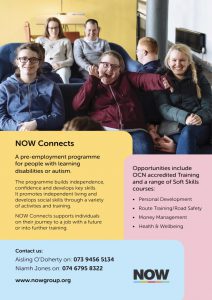 NOW Connects Group
NOW Connects is a pre-employment programme for people with learning disabilities or autism.
The programme builds independence, confidence and develops key skills. It promotes independent living and develops social skills through a variety of activities and training.
NOW Connects supports individuals on their journey to a job with a future or into further training.
Opportunities include OCN accredited Training and a range of Soft Skills courses:
Personal Development
Route Training/Road Safety
Money Management
Health & Wellbeing
Contact:
Aisling O'Doherty : 073 9456 5134
Niamh Jones: 074 6795 8322
Visit the NOW Connects website
---