Carers Support Service
Discretionary support grant for Carers during COVID19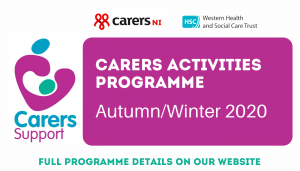 In partnership with Carers Northern Ireland the Western Trust are offering the following courses to unpaid Carers.
Read the Carers Activities Programme for Autumn/Winter 2020.
---
Who is a Carer?
A carer is someone who regularly provides a substantial amount of care to a family member, friend or neighbour who is ill, disabled or is an older person.
A carer could be:
A young person under 18 looking after a parent/brother/sister;
Looking after a relative with a disability;
The parent of a child with special needs;
A friend or relative looking after an older person
Carers Support Needs Assessment
As a carer who provides regular and substantial care, you are eligible for a support needs assessment. This is an opportunity for you to sit down with a member of staff and discuss the impact of the caring role on all aspects of your life.
Carer support needs assessments are confidential and the Trust will seek your consent around who information can be shared with, if appropriate in order to agree supports for you. This may be specialist information, or a referral to a support group.
The outcome of the assessment will be discussed to see if Social Services or another agency can meet your needs. Any needs that are not met will be recorded as evidence of services that we cannot provide.
Carers Group Cash Grants
Any Carers group that is constituted and meets on a regular basis (at least bi-monthly) can apply for up to £500. The money can be used for any activities provide support for Carers that will benefit their health and well-being. The funding cannot be used for activities for the persons being cared for. The grant is normally open from September until early December for applications. To find out more contact the Carers Support Team 028 6634 4163 or 028 7135 5023
Carers Walking Groups
The Carers Support Team run three Carers Walking Groups.
Tuesday – Omagh, usually meet at the Leisure Centre at 10.00 am
Thursday – Londonderry, usually meet at Sainsbury's at 11.00 am
Friday – Fermanagh, meet at Community Services, Coleshill, Enniskillen at 11.00 am
To find out more contact the Carers Support Team 028 6634 4163 or 028 7135 5023
Where to go for help, advice and information?
For help and advice about benefits:
Omagh Independent Advice Service
Telephone: 028 8224 3252
Dove House Resource Centre, Londonderry
Telephone: 028 7126 9327
The Resource Centre, Londonderry
Telephone: 028 7135 2832
Churches Advice Centre, Spencer Rd, Londonderry
Telephone: 028 7134 2536
Rosemount Community Resource Centre, Londonderry
Telephone: 028 7128 2829
Limavady Community Development Initiative (LCDI)
Telephone: 028 7776 5438
Citizens Advice Bureau:
Fermanagh  Telephone: 028 6632 4334
Londonderry Telephone: 028 7136 2444
Strabane Telephone: 028 7138 2665
Carers NI  also provide advice and support via a helpline Telephone: 028 9043 9843
Carers Newsletter
More information on the Carers Mailing List and to view the Latest Carers Newsletters.
Benefits Information
The criteria for Carers Allowance is that carers have to be caring for more than 35 hrs/week. Carers who care for more than 20 hrs in the week are entitled to claim Carers Credit, which means they will have credits allocated towards their pension. Carers who fall into the category of caring between 20 -34 hrs per week can Claim Carers credits by completing an application which can be accessed on the NI Direct website by clicking here or contact Carers Allowance Branch,  Belfast Tel:  028 9090 6186, and they will post a form out.
Children and Young People Strategic Partnership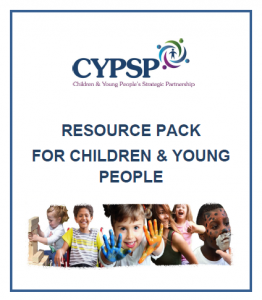 Resource and activity pack to support children and young people with a disability, and to support children and young people with their mental health. The pack also includes a host of other resources and activities.
---
Further Resources
Download the Carers Support information leaflet:
English     Arabic     Bulgarian     Cantonese     Lithuanian     Mandarin
Polish     Portuguese     Romanian     Russian     Slovak     Somali
You do not have to be in receipt of Carers Allowance to be a carer. Some carers do not qualify for this benefit. For more information please download the Carers Allowance Factsheet.
Download the Western Trust Carers Handbook: an essential source of help and support for people who are looking after someone.
Useful links
Carers Group Grants Information
---
Locations where this service is delivered
---
Contacts
Cathy Magowan
Carer Support Coordinator
2 Coleshill Road, Enniskillen
Co. Fermanagh BT74 7HG
Geraldine McLaughlin
Carers Development Worker
Rossabbey Office
Abbey Street
Londonderry
BT48 9DN
078 1015 6551
028 7135 5023

GeraldineAnn.McLaughlin@westerntrust.hscni.net