Self Directed Support
Our Service
Self Directed Support is a change in the way social care services are provided to offer much more choice, control and flexibility to individuals and families. It enables them to tailor a package of support that best suits their lifestyle and allows the individual and family to live their life in the way that they want to. Self Directed Support provides informed choice about how support is provided with a focus on 'working together' to achieve outcomes. It also gives the individual as much control as they want over their personal budget. Self Directed Support includes a number of options for getting support. The personal budget can be: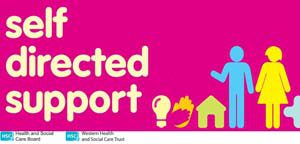 Taken as a Direct Payment
A Managed Budget
The Trust can arrange a service
Or a mixture of all three.
Self Directed Support is available to those who have been assessed as being in need of social care support. If you do not already have social care support you will have to ask for an assessment from a social worker or keyworker to ensure you are eligible.
Following this assessment a personal budget will be agreed to meet your support needs. You will then agree a support plan with your social worker or keyworker. When developing your support plan you can consider the options available to direct your support. In this way individuals are empowered to exercise choice, control and flexibility over their social care support, promoting independence.
Further Resources
---
Self Directed Support Videos
---
Locations where this service is delivered
---
Contacts
Maureen Mc Closkey - Personal Development Officer
Glen Oaks Centre
Londonderry
BT48 0BX
02871611417 or 07852310716