Stop Smoking
The harmful effects of smoking are well known and include cancer, heart disease and lung disease. Smoking also has serious implications for the health of babies and children. Within 24 hours of stopping, a smoker's blood pressure and lungs will already be showing signs of improvement. Every cigarette contains over 4,000 chemicals including cyanide and arsenic – around 60 of which are known to cause cancer. Smoking 20 cigarettes a day is equivalent to approximately £3,000 a year.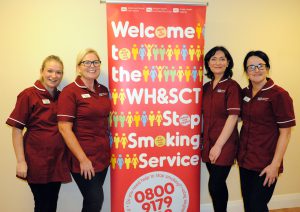 The Stop Smoking Service assists individuals who wish to stop smoking through adopting a supportive, empathetic and non-judgemental approach. This service is provided within primary and secondary healthcare, workplaces, schools and community/voluntary sector groups and is open to everyone. More people succeed with our Stop Smoking Service than with any other way.
The Stop Smoking Team works towards providing the most effective, evidence based stop smoking interventions for the public by providing intensive behavioural support for smokers who want to quit.
Trying to quit smoking?
For information on Stop Smoking Clinics, click here.
• Our service offers a free and flexible service to anyone who is keen to stop smoking
• Most smokers underestimate the effectiveness of professional help
• You are up to four times more likely to stop smoking with help
• The sooner you stop, the sooner your health will start to improve.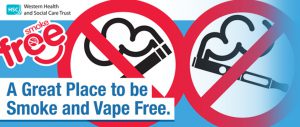 The Western Trust is a Health Promoting Organisation and has a Smokefree Policy. Smoking or vaping is not permitted anywhere on Trust premises including, entrances, doorways, walkways, private owned or trust cars, car parks, in bicycle or bus shelters, internal roads etc.
The policy applies to all staff, patients, visitors, contractors, volunteers and anyone who enters the Trust's hospitals, buildings and grounds. This ensures a healthier, cleaner and pleasant environment for all and promotes better health outcomes for our patients and service users. Overall the Smokefree Policy has received widespread support and compliments from Trust employees, service users and the public.
Coming into hospital?
If you are a smoker who is due to come into hospital, stopping weeks or if possible months before your stay will help your recovery. Speak to a member of your health care team who will assist you and refer you on to our stop smoking team.
For information or support from the Stop Smoking Team please contact the Western Health and Social Care Trust Stop Smoking Service (contact details below).
---
Contacts
Stop Smoking Service
08009179388