Smoking Cessation Team asks Employers to Embrace "Digital Stop Smoking 28 Day Challenge".
26/02/2021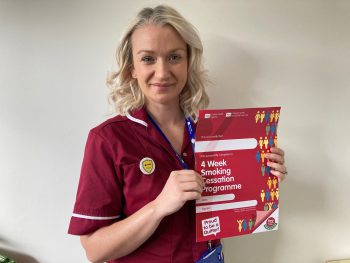 Our Smoking Cessation Team at Western Trust is calling on businesses from across the Trust area to join them in taking up the "Digital Stop Smoking 28 day challenge."
The challenge is being run throughout March to mark No Smoking Month 2021 and aims to help employers support staff who smoke to give up their habit by using digital channels to provide support in the workplace.
Smoking is the single greatest cause of preventable illness, premature death and health inequality throughout Northern Ireland. Each year around 2400 people die prematurely from smoking-related illnesses such as coronary heart disease, stroke and many cancers.
Michelle Scott, Smoking Cessation Coordinator, who is calling on employers across the Trust area to take part in the challenge, said: "We are asking employers to take part in the Workplace Stop Smoking 28 day challenge by supporting their employees throughout the month of March by simply using the digital tools available to them.
"We know that helping employees to stop smoking not only benefits the individuals themselves, but also has a positive impact on the organisation

as a whole as it helps to deliver better health in the workforce, increased productivity, improved staff morale and reduced absence due to sickness.

"This year is different as so many people are now working from home right across the Trust area and we are asking employers to help staff through the challenge by sharing Smoking Cessation support information in the workplace digitally.

"For many the recent changes to the way we work due to COVID-19 has presented lots of challenges, but it has also made us embrace technology in a much more integrated way. This year we would like employers to use these tools as part of the month long campaign.

"Businesses could set up WhatsApp groups for employees taking part, organise weekly Zoom calls to discuss progress or even highlight colleagues' efforts within the organisation.

"Official social media channels could also be a very effective medium. Employers can download graphics to use on their website and other social media channels as well as use these channels to highlight staff efforts and offer messages of support."
The challenge encourages smokers to give up smoking for 28 days, because research shows that if a person stops smoking for 28 days or more, they are four times more likely to stop for good.
There is also a financial benefit for workers who stop smoking – with the cost of tobacco now at an all-time high, quitting a 20-a-day habit will deliver an average £3,900 a year saving.
Visit our Stop Smoking information section where a number of materials for distribution to staff can be downloaded in support of the challenge.