First Contact Lens Clinic hosted at South West Acute Hospital
06/01/2020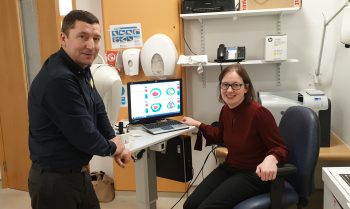 The Western Trust hosted a contact lens clinic at the South West Acute Hospital for the first time recently. The clinic is for patients who require complex contact lens fitting for conditions such as advanced corneal disease, previous corneal surgery and extreme long or short sight.
The clinic which previously took place in Altnagelvin Hospital is now being offered in South West Acute Hospital therefore reducing travelling times to appointments for patients. A clinic will also continue in Altnagelvin.
Louise O'Dalaigh, Ophthalmology and Optometry Services Manager, explained: "We are delighted to be able to offer this additional clinic in South West Acute Hospital. We took considerable feedback on from our community engagement on the Pathfinder Project, highlighting the need to bring appointments closer to local communities and this new clinic will most certainly reduce travel times for our patients."
Louise continued: "As well as complex contact lens fitting at this clinic, Optometrists provide cosmetic contact lenses fitting to mask ocular disfigurement. Paediatric contact lenses for children as young as three weeks old are also provided for ocular disease or high refractive error. Clinics are often held in conjunction with the corneal clinic, as these patients require multi professional input.