Updated Visiting Guidance – 7 May 2021
07/05/2021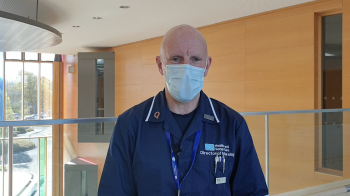 The Western Trust has welcomed announcements this week from the Department of Health concerning  easing of visiting restrictions in health and social care settings from Friday, 7th May, 2021.
The updated guidance for visiting will apply across all care settings – hospitals, hospices and care homes.
For full updated visiting guidance – Click Here
Detailing the changes, Executive Director of Nursing, Primary Care and Older People's services, Dr Bob Brown, said:
"We are very happy to be able to announce that from Friday 7th May we will be able to permit, in a phased way, more visitors to our Health and Care facilities.

"This will, in most instance, allow one person to visit every day for an hour in the majority of our general wards, that's across our Acute Hospitals, Community Hospitals, Mental Health and Learning Disability Facilities.

"There will be some exceptions. In our Children's and Neo-Natal Wards the guidance permits for two people to visit at a time, however we will ask, for example, the mother and father to rotate, rather than having two persons at the bed or cot side at one time. These measures are required given in a number of our locations the environment is quite small and social distancing can be more difficult to safely maintain".

"In Maternity settings, a birthing partner can now accompany their partner to the Labour Ward; remain with them during the birth and then remain with them for a period afterwards. Also the birthing partner or one other significant relation can attend the dating scan, anomaly and foetal medicine clinic appointments.

"Decisions around visiting in Maternity and all other settings will be guided by the ability to maintain a COVID secure environment, through local risk assessment and may be subject to variation if a situation requires".

"We ask that all individuals attending appointments in outpatient facilities, day procedure and short-stay surgical units, if possible, should attend alone to help us maintain effective social distancing. Again, however, exceptions can be made for those who require additional support, including those with mobility or perhaps memory issues and in these cases an accompanying person will be permitted. The same approach will apply to our Emergency Departments".

"Special arrangements will also be in place for areas such as Cancer Services and Renal Units, where patients are particularly vulnerable and as a result this will require more stringent restrictions, for example in the North West Cancer Centre, visiting will continue to be by exception only, and subject to individual review involving the patient, family and nurse in charge. We intend to review this arrangement at the end of May".

"Wherever possible our staff will communicate with family members to clarify guidelines in relation to the individual circumstances".

"We are also very pleased to be able to further ease the restrictions within our Residential and Care Facilities. As always our greatest consideration is the balance between the right of the family to visit and the assessment of risk these visits may present, as it is vital that we maintain a COVID secure environment for our residents, as well as protecting the staff who work there".

"From Friday 7th May two visitors will be permitted access to visit residents in residential and nursing home facilities on two separate occasions in any given week. Residents will also be permitted (where feasible and guided by individual risk assessment and care planning) to go for a drive with a family member or visit a family member's home. The managers of residential and nursing homes will maintain the day-to-day oversight of these revised visiting and travel arrangements, all subject to a local and dynamic risk assessment and key principles that include the ability to maintain a COVID secure environment in the home".
Anyone showing or experiencing the symptoms of COVID-19 or any other infection should not visit, even if these symptoms are mild and unconfirmed. Similarly, those who have been in contact with someone diagnosed with COVID should not visit.
In these circumstances the individual should remain at home and follow the latest public health advice on self-isolation and testing.
All people visiting/attending Health and Social Care Settings will be required to adhere to all public health advice such as maintaining social distance and wearing face coverings for the foreseeable future.
It is not possible for children under the age of 16 to visit our hospital facilities at this time, this will be kept under review.