Update on COVID19 Vaccine Programme
14/12/2021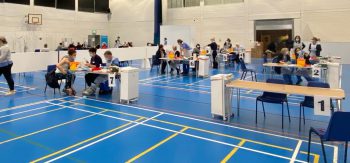 Who is Eligible for the Covid-19 Booster Vaccine?
Everyone Aged 30+ and 12 weeks or more since receiving their second dose are now eligible for the Covid-19 Booster
Children aged 12-17 are now also eligible for a Covid-19 Vaccine second dose, 12 weeks after their first dose
Anyone aged 12+ who haven't yet received a first dose remain a priority group, as are those who for whatever reason did not get their second dose when it was due.
Mass Vaccination Centres
The Western Trust, in line with regional approach, are moving back to Mass Vaccination Centres at Foyle Arena, Omagh Leisure Centre and Lakeland Forum from 15 December 2021
Online bookings for the receiving the Covid-19 Vaccine at the centres will be available from 15/12/21 for all centres
There will be limited walk-in capacity every day. Booking slots to receive vaccine online is strongly encouraged to help avoid waits.
Extended opening hours: Mon-Sat 9.00am – 8.00pm. Opening hours ono Sundays from 9.00am – 5.00pm until 23 December 2021.
The Trust have been located in The Lakeland Forum in Enniskillen since the beginning of December and will move to Omagh from 15 December and then up to and including 28 December 2021 before returning to Enniskillen. Omagh and Enniskillen will then commence a 7 day rotation basis as has been the procedure since the Vaccination programme began.
The Trust Centres are geared for capacity of approximately 1600 vaccinations per day (extended days, Monday-Saturday) and 1200 on shorter days (Sunday) across two open centres.
Bookings for end of this week made for An Chroi in Derry will be contacted directly and moved to the Foyle Arena.
To note: There will no longer be the requirement to wait for 15 minutes observation after receiving a second dose or a booster jab at the centres with the exception where the individual has had issues previously when receiving a vaccine.