"Super Saturday" Success for COVID-19 Vaccination Programme
04/08/2021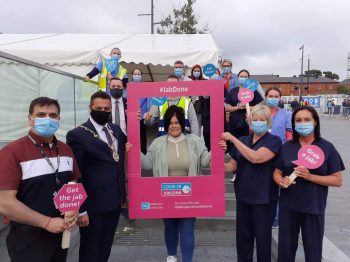 The 31st of July has been hailed as a "Super Saturday" as the Western Trust administered a record breaking total of 1,850 vaccinations in one day.
The number is the largest total administered by the Trust in a single day since it first began it's highly successful vaccination programme in December last year.
The date was already set to be a hugely significant one as it was the last day the Trust was scheduled to administer first dose vaccinations via its three Mass Vaccination Centres and through the tireless efforts of staff it turned out to be the busiest day of the Vaccination Programme in the Western Trust area to date.
All three Mass Vaccination Centres, located at Foyle Arena, Derry/Londonderry, Omagh Leisure Centre and the Lakeland Forum, Enniskillen, were exceptionally busy, with a high number of "walk ins" facilitated throughout the day, including 260 in Lakeland Forum alone.
The impressive tally was further supplemented with a first dose vaccines being administered at a mobile walk vaccination clinic held at Country Fest at Ebrington Square, L/Derry on the same day. Organised by the Western Trust's Mobile Vaccination Team, the clinic is the latest in a series organised across the Western Trust area that are open to everyone over 17, as long as they turn 18 on or before October 31, 2021 on a first come, first served basis.
For example, a day earlier on Friday 30th July, the Trust ran a successful mobile clinic in the Tyrone town of Dromore, which was also extremely well received, with the team administering 232 first doses between 4 – 8 pm.
Speaking about the highly significant achievement, Western Trust Director of Director of Performance & Service Improvement and Vaccine Programme Lead, Teresa Molloy, said: "We are delighted with the turnout at our three Mass Vaccination Centres and Mobile Clinics on Saturday, for what was a highly significant date as our teams administered a record breaking 1,850 vaccinations in one day."
"Our staff, volunteers and partners have been working tirelessly for months to ensure that we have vaccinated the most vulnerable and high-risk people in our communities before providing access to the vaccination for everyone over 18 through a combination of static and mobile vaccination sites across the Western Trust geography."

"The Western Trust is the only Trust to operate more than one mass vaccination site and in operating three from the very beginning it was clear they would play the central role in our vaccination programme in the West.

"However, in line with direction from the Department of Health, we were asked to stand down our centres to first doses from July 31st as we look to enter a new phase whereby we offer these vaccines through a series of mobile clinics, which to date have been very well attended and supported by the general public.

"Our work is now going to involve completing the vaccination of people with their second doses at our Mass Vaccination centres, and that is well underway, whilst facilitating more accessible mobile clinics to encourage those who still have to have their first jabs to come forward.

"Our three centres are still open for second doses by appointment, or by walk in and we would reiterate to the public to help us continue our work by taking up their second dose appointments where scheduled, as long as there is an eight week gap between first and second jabs.

"Everyone who takes up both doses of the vaccination is helping keep their family, friends and the wider community safe from the worst effects of Covid and helping us all to move towards getting life back to some degree of normality. We urge everyone who has not yet been vaccinated to attend one of our mobile vaccination clinics in the West, or indeed anywhere in Northern Ireland.  People can also attend some Community Pharmacies to receive their 1st dose vaccine."
Individuals who wish to make an appointment for their first dose at a Community Pharmacy can do so by visiting the online booking portal or by calling the regional booking line on 0300 200 7813 from Monday to Friday from 8.30am to 5.30pm."
To find out more about where and when our mobile vaccination clinics are being held you can visit the Western Trust Vaccination Info page.