Orthopaedic Surgery South West Acute Hospital
14/04/2021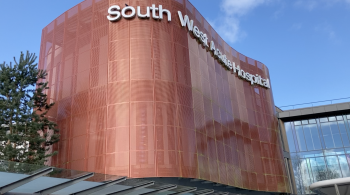 A new collaborative working trial aimed at developing new ways to tackle long-standing waiting lists has been developed by the Western Trust at the South West Acute Hospital (SWAH).
The new Test of Change pilot saw colleagues from the Trauma and Orthopaedic Unit in Altnagelvin Hospital travel to the Enniskillen site to complete Foot and Ankle Surgeries on patients using the facilities there on Saturday, 10th April 2021.
This was the second such Orthopaedic Clinic run under the Test of Change trial which has involved the establishment of a team spanning both hospital sites in November 2020.
By working together the group developed a model for care using the elective Theatre with selected patients admitted from the waiting list to the Day Procedure Unit in SWAH for surgeries.
Initially, the specialist Foot and Ankle Surgeons have been operating together in pairs and will continue until nursing staff members become familiar with the routine of Foot and Ankle Surgery. Once this happens it will allow Western Trust surgeons to operate separately, treating even more patients per clinic helping further alleviate waiting list pressures.
To help develop the programme full training is being provided on site and to aid this training space a half-day list is covered over one full day.  Specific training will also be provided with an exchange programme to Altnagelvin Hospital as required.
Speaking at the clinic on Saturday, Geraldine McKay, Western Trust Director of Acute Hospitals, said:
"The waiting times for Orthopaedic Surgeries are the longest in the region and the development of this Test of Change Trial represents a huge opportunity for improvement for patients across the Western Trust geography."

"Our teams have worked very hard to make sure that those patients who have waited, in some cases up to three years, for their surgery can now access the additional capacity at SWAH. The Theatre team and Senior Management Team have worked tirelessly to ensure that the Hospital and the staff here are at the forefront of new models going forwards and I'm very proud of the clinical team who have lead this piece of work here, which has been done with benefits to patients in mind."
One of the first patients to take part in the Trial was Mr Leslie Elliott (46) from Lisnaskea who underwent surgery to remove a tumour on the femur above his knee during the first clinic in March.
Mr Elliott said:
"I know that the issue of long waiting lists is a national one and that everyone within the Western Trust has always done what they can for me but I had been waiting to have my surgery for over three years and at times I must admit I thought it might never happen.

"However, when the Trust contacted me to say that they were trialling a new surgical clinic at SWAH and asked if I wanted to be involved I was only too happy to agree. Everyone involved has been fantastic and the fact that this clinic is being provided in Fermanagh, allowing the trust to work with patients from across the Western Trust area to help address the waiting lists is a fantastic development and I would like to pass on my thanks to everyone involved."

"I would like to personally thank the nurses and consultants who looked after me very well on the day, it was the first day of the clinic in the SWAH and I would have expected some hitches but everything run very smoothly, the consultant took time to explain the procedure and the recovery process, which helped put my mind at ease, a reflection of the dedication and professionalism of the staff."
Patients taking part in the clinics are selected from the Trust Orthopaedic Day Case waiting List for foot and ankle surgery and all undergo pre-operative assessments, Covid testing and post-operative reviews at current Trust out-patient clinics.
The Test of Change pilot is operating due to the full support of SWAH theatre staff, anaesthetic staff and all support services such as Pharmacy, Radiology, HSDU, Physiotherapy, Podiatry, Cleaning and Administration, all of who are working with Senior Altnagelvin based staff to ensure the comprehensive development of the pilot.
The next scheduled daycare theatre session is set to run on Saturday 24th April with progression to forefoot procedures and it is hoped that the success of this pilot can be extended into the future for the further development of the South West Acute Hospital site.
Trauma and Orthopaedic services in the WHSCT
During the last year trauma/ fracture services have been maintained and run fully in both outpatient and inpatient settings during the covid pandemic. Despite challenges posed through covid-19, access for fracture surgery has remained at usual high levels with over 85% of patients having fracture surgery within 48hours.
The virtual fracture clinics have also been maintained with over 28% of patients being managed with virtual review and telephone advice from the virtual fracture team, and avoiding face to face appointments at hospital. A nurse led wound care clinic has also been developed on the Altnagelvin site to allow provision of fracture appointments and prevent cancellation of planned elective clinics.
Although inpatient elective services have had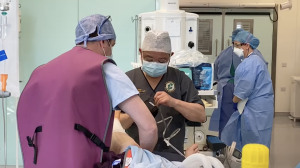 to be suspended for most of the last year, daycase surgery has continued on the Altnagelvin site. Surgeons have further developed the new daycase facility treating a wider range of patients on a daycase basis and using new techniques in local anaesthetic and developing multidisciplinary review post-surgery.
Consultant surgeons have also used facilities with local Independent sector providers such as North West Independent Hospital to treat a number of elective orthopaedic patients through a contract developed by the HSCB.
As demands on critical care services reduce on the Altnagelvin site the theatres are now in use for inpatient orthopaedic surgery on a phased basis. The new elective ward in the North wing has also been re-opened.
The orthopaedic team in the Western Trust have developed several other initiatives that have improved access and patient experience for outpatient care. Development of co-located multidisciplinary clinics seeing larger volumes of patients for upper limb, foot and ankle and hip and knee conditions. In addition mega clinic sessions have been held allowing large volumes of patients to be assessed in outpatient settings- mainly at weekends by teams of consultants, physiotherapist and podiatrists, supported by admin, nursing and radiography staff.
Clinical and admin teams have also carried out validation of assessment and treatment waiting lists. Some of these exercises have removed over 25% of patients from the waiting lists, who no longer required assessment, had been treated privately, or used the EU directive for elective care.
These outpatient and validation initiatives have had significant impacts on waiting lists for assessment.