Launch of Adult Learning Disability Choir
03/09/2021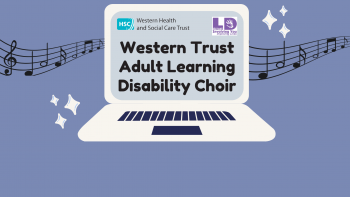 The Western Trust in conjunction with the Adult Learning Disability Local Involvement Groups are delighted to announce the creation of a new Inclusive Adult Learning Disability Choir. The Choir are performing a Christmas Concert on 16th October at Alley Theatre in Strabane – Click Here for more information
Membership of the new Choir will include adults with a Learning Disability, their Carers, and Staff from the Western Trust.
Choir Mistress, Siobhan Heaney, says:
"We can improve our wellbeing by changing our physical, emotional, and social state through music and singing.  Songs can affect how we feel, and we can choose different pieces of music according to our mood.  Singing has the power to evoke a wide spectrum of emotions and when we sing together our mood is elevated as it is a form of social connection.

"Being part of a choir brings confidence, joy and friendship to each member and helps put a smile on each and everyone's face.  I believe that it is possible to improve your health one song at a time!"
Western Trust Assistant Director Adult Learning Disability, Christine McLaughlin said:
"Given the growing evidence of the value of singing on health and well-being, the Western Trust is delighted to be involved in this new opportunity.

"We are very aware of the impact of many activities having been halted in response to the Covid pandemic. It is really exciting to be part of the launch of this venture which we believe will bring real physical and emotional benefits for the participants as choir members connect with each other through engaging in the shared activity of singing".
Rehearsals will take place each Tuesday evening, beginning on Tuesday 7th September at 7pm by Zoom and will help adults with a learning disability to increase their confidence and learn a new skill whilst having fun.
Those with communication difficulties are encouraged to join as the Choir will be supported through the medium of Makaton.
The Choir plans to showcase their new skills in a Christmas Concert. For information on the Christmas Concert – Click Here
For more details and to sign up please contact Deirdre on 028 7186 4323 or Deirdre.kelly@westerntrust.hscni.net .