Human Milk Bank Service urgent New Year appeal for more donor mums!
30/01/2023
Our Human Milk Bank service based at the South West Acute Hospital, Enniskillen is making an urgent New Year appeal for more donor mums to come forward and help to provide essential lifesaving donor breast milk for babies in neonatal units in hospitals throughout Ireland in 2023!
Elizabeth (Liz) Bailie, Human Milk Bank Co-ordinator expressed her thanks to all our Human Milk Bank donors for their support she said:
"We are indebted to our donor mums who have continued to provide essential donor breast milk for babies in neonatal and surgical units in hospitals throughout Ireland. The Human Milk Bank staff are working very hard to ensure this vital service remains available to all our vulnerable premature and surgical babies, particularly at the start of a New Year.  We know as from previous years this can be a time when neonatal units require additional stocks of donor expressed breast milk."

"It has been another very busy year for the Human Milk Bank Service, in 2022 we received 1140 litres of donor breast milk which was sent to neonatal units in hospitals throughout Ireland. This precious lifesaving donor milk has helped 1004 premature babies, of which 279 were either a twin or a triplet. Breast milk gives premature and sick babies the best possible start in life as it helps build their immune system, their eye and brain development and prevent Necrotising Enterocolitis (NEC), which is a devastating intestinal disease which affects premature or low birth babies. So you can see it is essential that we continue to recruit donors at this time. I would appeal to expectant mums to consider becoming a donor and for our donor mums to spread the word about the Human Milk Bank as this is the best way to help us recruit new mums!"

"We are also extremely grateful for the support of the Voluntary Blood Bikers, who continue to transport our much needed donor milk. Thank you to Derek Duffy and Linda Moore from Cu Chulainn Blood Bikers and Mark Forster from CRS Voluntary Bikers for coming today to support our appeal and for the dedication and commitment they and their affiliated blood bike teams provide to ensure this lifesaving milk is safely transported to neonatal units throughout Ireland."

"We have so many wonderful donor mums who have kindly helped us raise awareness of our Human Milk Bank service and to share their gift of donor milk on our social media channels.
Donor recipient mum Cathy Mullan from Omagh said:
"My baby daughter Fiadh was born six weeks prematurely on 19 November 2022 and was cared for in the neonatal unit at the South West Acute Hospital.  Fiadh received donor human breast milk during the first few weeks following her birth. Knowing that Fiadh was getting the very best start in her very young life gave me the peace of mind to focus on bonding with my daughter and allowed me the time to establish my own breastmilk.  With the support of staff in the neonatal unit I was able to successfully breastfeed Fiadh and I cannot thank them enough for what they have done.  Fiadh was able to come home to spend her first Christmas with my husband and I and cannot thank the staff in the neonatal unit enough for all their care and support.  Fiadh is doing really well and is gaining weight and we will be forever grateful to the donor mums for providing this precious milk for our beautiful daughter, Thank you!"
Donor recipient mum Sherrilea Gilbride from Enniskillen said:
"My baby daughter Isla received donor human breast milk for the first week of her life whilst she was in the neonatal unit at the South West Acute Hospital in 2021. I am so grateful to the donor mums who have kindly donated their precious breast milk to help Isla when she was born and required support in the neonatal unit.  Knowing that Isla was getting the very best start in her very young life gave me the peace of mind to focus on bonding with my daughter and allowed me the time to establish my own breastmilk.  I was able to successfully breastfeed Isla and I cannot thank the staff at the Human Milk Bank enough for what they do in – it is a lifesaving service.  Isla is thriving and is a happy, healthy 15 month old and keeping me very busy!"
Donor mum Louise McSharry from Eskra said:
"I was first aware of the Human Milk Bank service when I was on placement as a student nurse when it was located in Irvinestown a number of years ago.  I heard more information on the service from another mum who had successful donated to the milk bank during her four pregnancies.  I knew this was something I wanted to do and when my daughter Tess was born I  contacted the Milk Bank and went through their screening process to see if I would be suitable to donate my breast milk. I am delighted to be able to provide the gift of life for sick and premature babies it really is the most precious gift and I would appeal to expectant mums to find out more about how they can become a donor."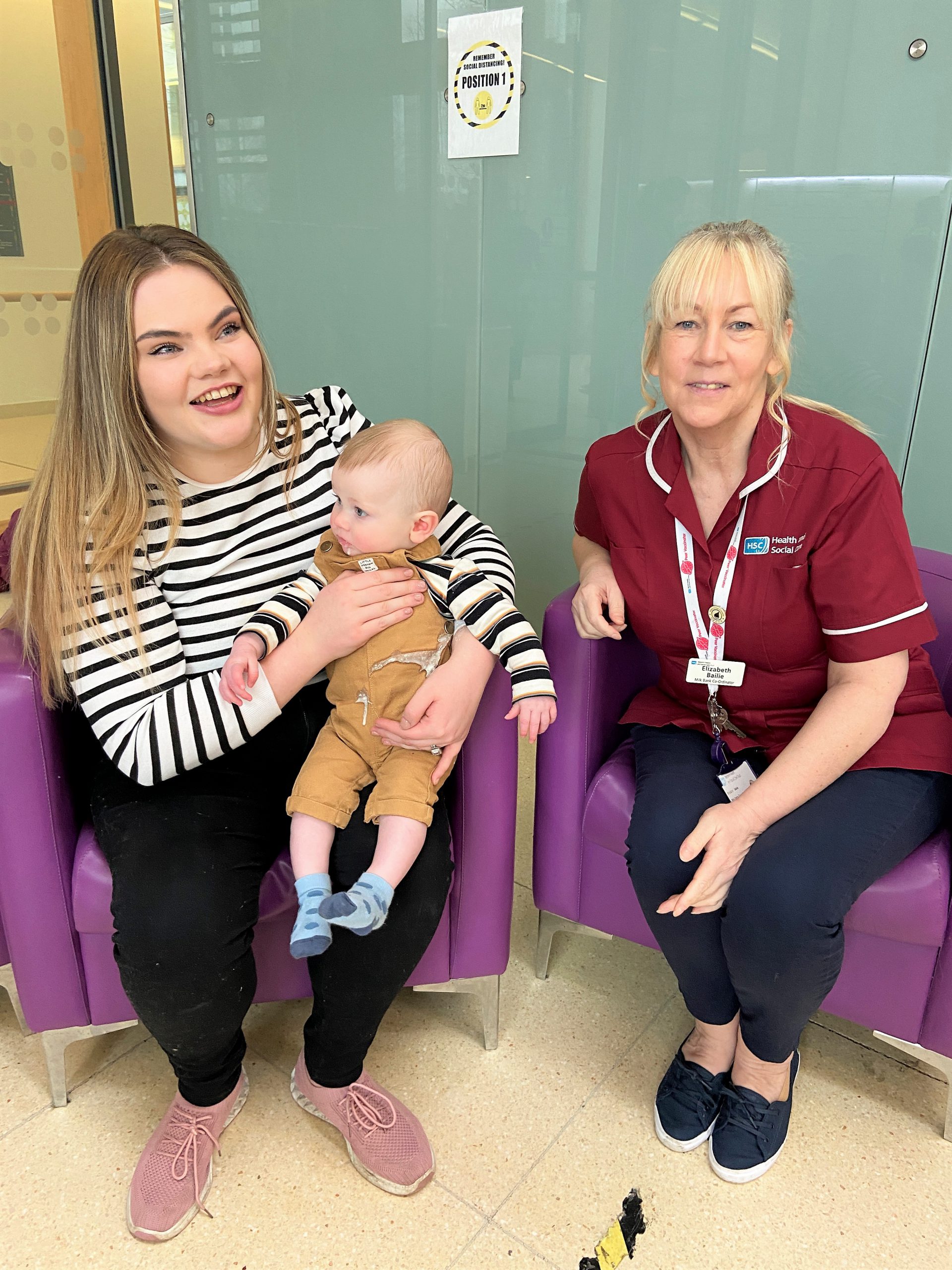 Donor mum Clare Sizeland from Enniskillen said:
"I was made aware of the Human Milk Bank service through my health visitor when I was expecting my second child. I was given information on the service and so when my son Ruairi was born I  contacted the Milk Bank and went through their screening process to see if I would be suitable to donate my breast milk. I am delighted to be able to provide the gift of life for sick and premature babies it really is the most precious gift and I would appeal to expectant mums to find out more about how they can become a donor."
If you would like to find out more about the Human Milk Bank and becoming a donor please contact the Human Milk Bank on Tel: (028) 68628333 or email tmb.swah@westerntrust.hscni.net