Big Jab Weekend 2 a Huge Success
20/10/2021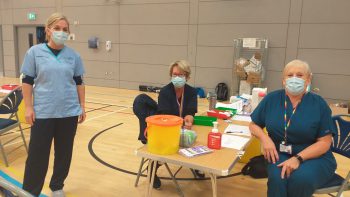 The Western Trust has paid tribute to the hard work and dedication of its Vaccination Teams at each of the Trust's three mass vaccination centres after they put in a record-breaking effort to administer over 2,500 doses at the "Big Second Jab Weekend."
The Big Second Jab Weekend was held on Saturday 16th and Sunday 17th October and saw those who received their first dose at the Big Jab Weekend back in August return for their second dose, as well as hundreds of others who had missed out on their scheduled second dose at the time.
In total last weekend, teams administered 2,579 jabs of the Pfizer vaccine at its centres at Foyle Arena, Derry/Londonderry, Omagh Leisure Centre and the Lakeland Forum, Enniskillen which opened their doors again for one weekend only. Of those, 99 were first doses given to 16-17 year olds, while the remainder were people returning for their second dose jab.
Commenting on the success of the "Big Jab Weekend" event, HR Director and Vaccination Programme Lead, Karen Hargan said:
"We are incredibly proud of every single member of our Vaccination Teams and our wider staff for the huge effort they have put into our vaccination programme, which has taken on many strands and stages over the past 12 months.

"Although we have delivered the programme through a variety of means, our primary method has been via our three Mass Vaccination Centres, and over the course of the programme we administered a staggering 237,302 jabs across our three centres.

"On behalf of the Western Trust I would just like to publicly extend our thanks to each and every one who was involved over the course of this extremely busy weekend in our continued fight against COVID-19."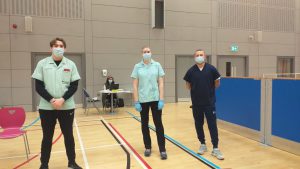 The Western Trust reminds anyone who has not yet received a first dose vaccination but wishes to do so, can do so at their participating local community pharmacy. Full details are available here.
To find out information about the Western Trust's vaccination programme, including second dose mobile clinics, booster jabs, Clinically Extremely Vulnerable (CEV) and 12-15 year olds, you can visit the Trust Vaccination Webpage.
If you are planning to attend a Vaccination Clinic, please do not do so if you:
Are currently unwell with a high temperature or fever
Have had a first positive test for COVID-19 in the last 28 Days
You have been advised to self-isolate
Anyone attending a walk in clinic is reminded to wear a face covering (unless exempt for medical reasons), adhere to social distancing rules and bring along their Health and Care Number (HCN) and ID if possible.