Antenatal Diabetes Team celebrate prestigious national healthcare award from the British Medical Journal!
09/10/2020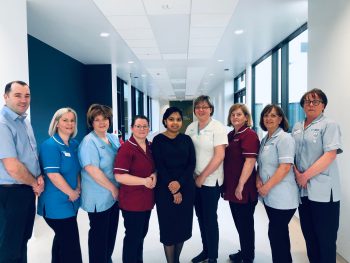 Our Antenatal Diabetes Team has won a prestigious national healthcare award for their innovation in caring for women with gestational diabetes.
The Team, led by Dr Athinyaa Thiraviaraj, claimed the Quality Improvement and Innovation Award at the British Medical Journal Awards (BMJ) held virtually this week.  Innovation in quality improvement is a highly contested category with hundreds of applicants across the UK. They overcame competition from five other equally deserving finalists from across the UK.
The Team offers joint antenatal and diabetes care for women with diabetes in pregnancy. Gestational Diabetes increases the risk of complications in pregnancy for mother and baby. It is a growing public health concern that affects 8 to 14 percent of pregnancies annually in the Derry/Londonderry area.
The team is multi-disciplinary in nature and is made up of consultants in Obstetrics and Diabetes, midwives, diabetes specialist nurses, diabetes specialist dietitians, administrative staff, health care assistants and service managers. The team was mobilised through the 'Big Room' concept, facilitated by the Flow Coaching methodology.  A Big Room meeting provided a space and platform for everyone involved in providing this service to meet regularly, including users of the service. The team met weekly to continuously evaluate and improve the care experience of ladies with GDM, whilst removing inefficiencies in the process.
A woman with Gestational Diabetes in pregnancy can expect to attend up to 13 extra appointments during their pregnancy, depending on when she is diagnosed.  The introduction of app based blood glucose monitors and video clinics has resulted in less hospital clinic visits. With 31% less diabetes hospital appointments and 23% less obstetric appointments. During the first 18 months the team  hosted over 658 video clinics, saving 15,811 miles of travel for ladies using the service. The team was one of the first in the region to provide this type of appointment facility, when it was established in 2019.  They paved the way for other services, who have since adopted this option through the COVID19 pandemic.
Speaking about their success, Dr Athinyaa Thiraviaraj, Consultant Physician said: "We are delighted to have received this award. I speak on behalf of the team and all the mothers who have collaborated with us, helping us to redesign our service for the better.  We are also grateful to the Flow Coaching Academy, who supported us along the way."
Athinyaa continued: "By improving waiting times, frequency of visits and always listening to the mothers involved with our service, we ultimately improved the overall experience and made time and cost savings."
'Proud' Western Trust, Chief Executive Dr Anne Kilgallen, said: "It has been long meticulous journey for this team. The team are providing a very valuable service, which is making a real difference to the lives of women with Gestational Diabetes.  A well-deserved win for all involved, I am very proud of them and what they have achieved."
Congratulating the team on their win, service user and mother of three young children, Joanne Hasson said: "I had Gestational Diabetes during all three of my pregnancies. After my second pregnancy, I was invited to participate in the Big Room, I was impressed by how much they involved the mother and considered their concerns and experiences in shaping the service.
"Personally the team kept me involved, safe and reassured throughout my pregnancies. Congratulations to everyone, this award is testament to your commitment and hard work on behalf of mothers with Gestational Diabetes."