Additional Lakeland Forum Booster Clinics
15/12/2021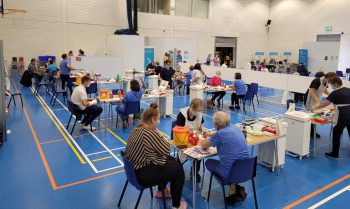 Further to our previous communication in respect of the enhanced Vaccination Programme at our three Mass Vaccination Centres in Lakeland Forum, Omagh Leisure Centre and Foyle Arena, please now note the following two additional dates which have been added to the Lakeland Forum schedule.
We have now added the following two additional days, as part of the enhanced Vaccination Programme, in The Lakeland Forum, Enniskillen, on Sunday 19 December (11.00am-5.00pm) and Monday 20 December 2021 (9.00am-5.00pm). These will be additional days to the planned period in Omagh Leisure Centre which will be in operation until Tuesday 28 December 2021, with the exception of closed days in all centres on 24, 25 and 26 December 2021.
With the emergence of the Omicron variant of COVID-19 and the implementation of the enhanced vaccine programme by the Health Minister, the Western Trust have again stepped up to the significant challenge of rapidly increasing capacity. The Western Trust have delivered almost 300,000 vaccine doses since the programme began and have provided a significant number of opportunities for anyone eligible to get their vaccine throughout 2021 across 3 Mass Vaccination Centres, when they have been in operation, at Lakeland Forum, Omagh Leisure Centre and Foyle Arena since inception.
Our three Mass vaccination Centres also operate alongside local GPs and Community Pharmacies who offer the Vaccine, a list of which can be found here.
Full details and information about the programme and who is eligible can also be found here and which will continue to be updated every week.