World Human Milk Donation Day 2023
19/05/2023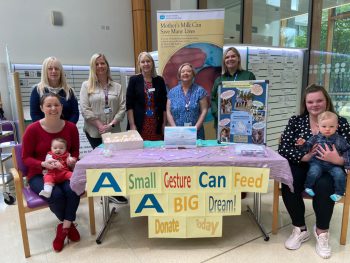 The Western Trust's Human Milk Bank service based at the South West Acute Hospital, Enniskillen are delighted to support World Human Milk Donation Day, which is held globally each year on the 19 May.
Susan Rogers, Lead Nurse Public Health at the Western Trust expressed her thanks to all our milk bank donors for their continued support during the Covid-19 Pandemic she said:
"We are indebted to our donor mums who have continued to provide essential donor breast milk for babies in neonatal units in hospitals throughout Ireland. We are delighted to invite our donor mums and donor recipient mums to celebrate World Human Milk Donation day to meet up and enjoy tea and cake as a small token of thanks for their generosity and support to the Human Milk Bank."

"The Human Milk Bank staff are working very hard to ensure this vital service remains available to all our vulnerable premature babies, through these uncertain times."
Susan added:
"It is essential that we continue to recruit donors at this very challenging time and I would appeal to expectant mums to consider becoming a donor and also that they promote the Human Milk Bank to other mums to be. Breastfeeding is one of the best protections for babies and mothers are encouraged to consider donating.
In 2022 the Human Milk Bank provided donor milk for 1004 premature babies, of which 279 were either a twin or a triplet.
From January to the present time we have recruited 114 donors and provided 432 litres of donor milk to premature babies throughout Ireland.
Susan concluded: 'We are extremely grateful for the support of the Voluntary Blood Bikers, who have recently been recognised for a National Lottery Good Cause Award for their voluntary and community work who transport our much needed donor milk to neonatal units across Ireland."
If you would like to find out more about the Human Milk Bank and becoming a donor please contact the Human Milk Bank on Tel: (028) 68628333 or email tmb.swah@westerntrust.hscni.net