Western Trust support 'The Daily Mile Santa Run'!
14/12/2021
Our Health Improvement Department was delighted to support 'Northern Ireland Does The Daily Mile Santa Run' took place on Friday 3rd December 2021.
The aim of the event was to raise awareness of the benefits of The Daily Mile for children's mental health and to encourage children in schools and early year settings from all over Northern Ireland to move on the same day.
Eilish McCloskey from our Improvement Department explains:
"A great day was had at schools throughout the Western Trust area with children wearing their Christmas jumpers and hats. Roe Valley Integrated Primary School, Limavady was one of the schools to take part and as you can see from the photographs, the children and the teachers all looked amazing!

"'The Daily Mile' is an initiative separate from break time or PE, is totally cost free and requires no special equipment or clothing. Children simply leave the classroom once per day and jog or run for 15 minutes which is approximately 1 mile. The benefits are many – increased fitness levels, reduction in overweight/obesity, improved attention in the classroom and better social relationships with peers and staff."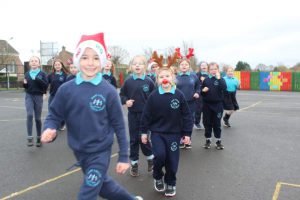 In partnership with the Public Health Agency, the Department for Communities funded Neighbourhood Renewal Health Project and Neighbourhood Health Improvement Programme there are a number of resources available for participating schools to receive including:
A Step by Step information guide with attachments
Two classroom posters
Stickers for one of the posters
A pupil certificate
These are available from the Health Improvement Department for participating schools. These are also available in Irish on request. For support introducing The Daily Mile and to receive hard copies of the supporting resources contact:
The Daily Mile UK also have a recognition scheme to support schools which register. To register your school go to: https://thedailymile.co.uk/school-signup/