Western Trust make first doses available for 16 and 17 year olds
05/08/2021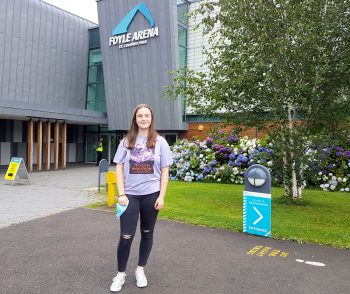 We will begin administering Pfizer jabs for 16 and 17 year olds at each of its three Mass Vaccination Centres and Mobile Clinics from Friday 6th August.
All Centres have high numbers of people receiving 2nd doses booked in the coming weeks, so although 16/17 year olds can "walk in" for their vaccine, Western Trust is asking all within this cohort to book their appointment on-line to ensure that they avoid a long wait, over even being turned away and asked to come back another day.
The Trust's Vaccination Centres have been closed for all other first doses, but they are facilitating first doses for these specific age groups.
Individuals aged between 16 and 17 years old who wish to make an appointment can do so by visiting the online booking portal https://covid-19.hscni.net/get-vaccinated/; or by calling the regional booking line on 0300 200 7813 from Monday to Friday from 8.30am to 5.30pm.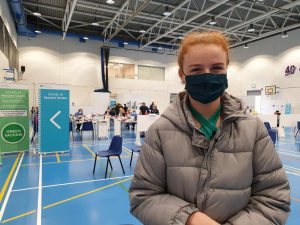 The announcement came after the Joint Committee on Vaccination and Immunisation (JCVI) recommended that Covid-19 vaccine first doses be provided to all 16 and 17 year olds this week.
From Friday 6th July, all regional vaccination centres across Northern Ireland, including each of the three Western Trust-run centres, located at Foyle Arena, Derry/Londonderry, Omagh Leisure Centre and the Lakeland Forum, Enniskillen, will be providing walk-in Pfizer first jabs for 16 and 17 year olds.
The Western Trust will also provide Pfizer first doses to 16 and 17 year olds at its Mobile Walk-in Clinics being held across the Western Trust Geography from Friday. These include:
| | | |
| --- | --- | --- |
| DATE | VENUE | TIME |
| Thursday 12th August | Derg Valley Healthy Living Centre, Castlederg | 4.00pm-8.00pm |
| Tuesday 17th August | St Mary's, Derrylin | 4.00pm-8.00pm |
| Tuesday 24th August | Diamond Centre, Claudy | 4.00pm-8.00pm |
| Thursday 26th August | Strathroy Community Centre, Omagh | 4.00pm-8.00pm |
| Wednesday 1st September | Bogside / Brandywell / Fountain Urban Valley Area | 4.00pm-8.00pm |
| Friday 3rd September | Dromore Sports Complex | 4.00pm-8.00pm |
This list is being updated regularly, so to find out more about where and when our mobile vaccination clinics are being held, or to view the
available slots at our Vaccination Centres, you can visit the Western Trust Vaccination Info page: bit.ly/WTCOVID19Vaccination
Director of Performance & Service Improvement and Vaccine Programme Lead, Teresa Molloy, said:
"As a Trust we welcome the latest advice from JCVI and have worked to make sure that our Vaccination Teams are able to facilitate this new cohort from Friday.

"We are following the guidance set out by the Department of Health and advice from JCVI in relation to childhood immunisations. JCVI has consistently held that the main focus of its decision should be the benefit to children and young people themselves, weighed against any potential harms from vaccination to children and young people.

"JCVI are an independent, expert Committee who have thoroughly assessed a wide range of evidence. It is important that we continue to follow their advice and the Western Trust is happy to be able to facilitate this latest phase in the mass vaccination programme."
Please note that mobile clinics will only deliver first doses of the COVID-19 vaccine at this time.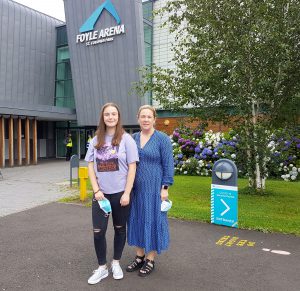 If you are planning to attend one of our Mass Vaccination Centres, or Mobile Clinics, please do not do so if you:
Are currently unwell with a high temperature or fever
Have had a first positive test for COVID-19 in the last 28 Days
You have been advised to self-isolate
Had any vaccine (including flu) in the last 7 days.
Anyone attending a Western Trust Clinic is reminded to wear a face covering (unless exempt for medical reasons), adhere to social distancing rules and bring along their Health and Care Number (HCN) and ID if possible, along with the vaccination card if it is your second dose.