Western Trust Chief Executive pays special tribute to outgoing Trust Chair, Sam Pollock, CBE
26/04/2023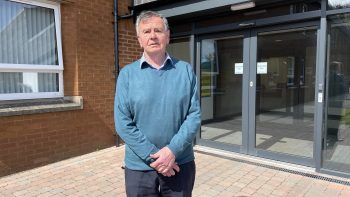 Chief Executive of the Western Trust Neil Guckian, has paid a special tribute to outgoing Trust Chair, Sam Pollock CBE.
Mr Sam Pollock was appointed as Trust Chair in May 2019. A Social Worker by profession, he started his public service career in 1969, devoting almost 50 years to criminal justice. During this time Sam led in senior positions within the Police Ombudsman's Office and the Policing Board.
When commencing his role as Western Trust Chair, Sam was conscious that his previous work was far removed from the work of a Health Trust, nonetheless he valued the opportunity to serve the public once again. He will retire at the end of April 2023, at the age of 74.
Thanking Sam for his guidance, support and commitment over the past four years, Chief Executive, Neil Guckian, said:
"Sam joined the Trust in May 2019 and within a matter of months was faced with leading us through the Covid-19 pandemic and the challenges it brought. He also guided the Trust to implement a very significant financial recovery plan. Sam undoubtedly played an integral role supporting management and staff during his time as Chair."
Neil added
"Sam brought to us the extensive knowledge and experience that he accumulated over his long career. His background as a Social Worker has ensured strong professionalism and value-driven leadership throughout. He took great interest in the healthcare system and spent time visiting and getting to know many individual Trust services. The insight he gathered from these opportunities supported his decision-making and also gained him great respect amongst our staff. On behalf of the Trust Board and our entire workforce I wish Sam a long and happy retirement – he has certainly earned it!"
Reflecting on his time as Chair of the Western Trust in a farewell message to staff, Mr Pollock said:
"Initially I was surprised and nervous to take on the role of Chair. I was in no doubt that this would be my last public responsibility, due to my age. I have worked since the age of 21, in criminal justice mostly, it was certainly a big jump moving from this arena into health.

"During my first year as Chair, I enjoyed visiting many of the services and getting to know staff within them. Then the pandemic hit us, but we faced it head on. Staff in hospitals, staff in care homes and our chaplains were simply superb dealing with enormous challenges daily. While it was an incredibly difficult time, just seeing people working so hard together across teams and services, was hugely humbling."
Sam recalled the loss of life in the Western Trust area, due to Covid19, as being approximately 3,000 people, but it became much more real for him when Nuala McLaughlin, a Social Worker with the Trust's Family and Childcare Team died of Covid-19 in December 2020. Pointing to a picture in his office of Nuala, he said:
"Nuala's death really brought it home to us on a personal level, she was one of our own. It reinforced my purpose and my commitment to supporting management and staff."
Sam added:
"Before I retire I wish to extend my best wishes and thanks to all Trust staff. The Western Trust provides an absolutely excellent service to the people in this part of the province. Having been born in County Derry and grown up in South Derry, I am tremendously proud to finish my career here."
Wishing you all the best in your retirement Sam.