Welcoming our future nurse and midwife leaders
17/07/2020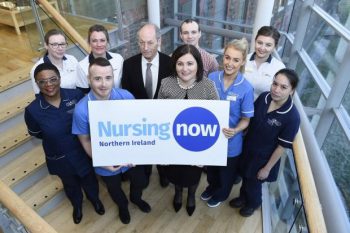 Nursing Now 2020 NI – Introduction
Nursing Now is a three-year global campaign to improve health by raising the status and profile of nursing and midwifery, and is run in collaboration with the International Council of Nurses and the World Health Organisation.
Nursing Now Northern Ireland was launched in 2019 with Northern Ireland's Chief Nursing Office, Professor Charlotte McArdle at a Public Health Nursing Conference which was attended by student nurses, people who use our service, community and voluntary groups, Health and Social Care System leaders, General Practitioners and MLAs.
Public health is a priority for the campaign within Northern Ireland with special focus on
Homeless Health
Valuing Diversity
Leadership in Nursing
Leadership in Midwifery
The Nursing Now campaign will also focus on the future role of nurses and midwives, men in nursing and midwifery, early intervention, and transforming education for nurses and midwives. The campaign has pledged to focus on homelessness and health inequalities in Northern Ireland.
Nightingale Challenge
To celebrate 2020 as the Year of the Nurse and the Midwife, the Nightingale Challenge aims to equip and empower the next generation of nurses and midwives as leaders, practitioners and advocates in health.
The Nightingale Challenge asks for every health employer to provide leadership and development training for a group of young nurses and midwives during 2020, the Year of the Nurse and the Midwife.
The Nursing and Midwifery Global Leadership Development Programme has also commenced in 2020. The aim of the programme is to develop nurses and midwives leadership, policy-making, quality improvement and partnership working skills of young Registered Nurses and Midwives (under 35 years) as part of the global 2020 Nightingale Challenge, and in doing so build a cadre of strong, politically astute young nursing and midwifery leaders well positioned to play a full part in strengthening nursing and midwifery in Northern Ireland.
This will include developing their knowledge and skills from an evidence-based perspective, including the role of nurses and midwives in the delivery of transformational change aligned with 'Health and Wellbeing 2026: Delivering Together' through 'collective leadership'; through a combination of theoretical and practical interactive activities to further develop and strengthen nursing and midwifery leadership practice in the context of improving health globally through the contribution of nursing and midwifery.
Una Cardin, Nightingale Programme Lead for the Western Trust said: "I am delighted to welcome our cohort of five Global Leadership Development Programme Nurses/Midwives and 20 Nightingales as future leaders in the Western Trust. We have developed a calendar of events throughout the year and will be introducing participants over the coming weeks and months on the Western Trust's digital media and internal channels."
Una continued: "During the past number of months our dedicated healthcare staff across the Western Trust have risen to the challenges the health service has faced due to the global COVID-19 Pandemic. Our nurses and midwives have shown great innovation and resilience to continue to provide the best care and support to their patients and clients. I have no doubt the participants in this programme will gain a wealth of knowledge and skills to ensure that they can face any challenges in the future and I wish them every success."