Cardiac Telephone Triage System features at leading conference
01/09/2021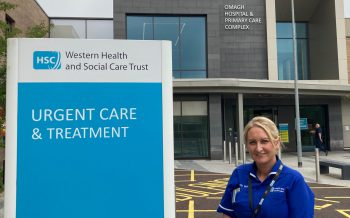 Our successful cardiac telephone triage system came under the spotlight at a prestigious European conference this week, with a local nurse stepping centre-stage.
Julie Devlin, a senior staff nurse in the Cardiac Assessment Unit (CAU) at the Omagh Hospital and Primary Care Complex, presented to the European Society of Cardiologists on how the Trust had implemented its telephonic cardiology advice line last year, and its safety and effectiveness through its first six months.
With the decrease in face-to-face interactions during COVID19 restrictions, staff were keen to mitigate the potential negative and dangerous consequences for patients, and thus a telephone triage system came into operation. In the first six months they fielded 999 calls, each one dealt with by one of the expert senior nurses in the unit. Patients were then given advice or given an appointment at one of the Trust's cardiology hubs for further assessment and treatment.
Consultant Cardiologist Paul McGlinchey submitted an abstract of the report for consideration by the expert panel, with only a limited number chosen for presentation at the event. Due to travel restrictions, this year's Congress has been a digital experience, but being part of the event is still a hugely important milestone for the Western Trust, and is testament to the great work being done in cardiac services.
Paul McGlinchey, Consultant Cardiologist with the Western Trust, was delighted that the presentation enjoyed such prominence at the esteemed event:
"The fact that this work was chosen for presentation at the European Society of Cardiology is high praise in itself. I have been hugely impressed with the way staff in cardiology in the Western Trust, and in this case in Omagh's Cardiac Assessment Unit, have been responsive to huge changes and difficult times throughout the COVID-19 pandemic and it seems that the European Society of Cardiology share my feelings too!

"This is the culmination of the work of the group of nurses in the Cardiac Assessment Unit, but Julie Devlin should receive individual recognition for the way she has embraced and tackled adversity caused by change, and has striven to continue to provide the high standard of service that the population of the Western Trust deserve."
Julie, a cardiac nurse for the past 16 years, presented alongside peers from Norway, Brazil, Japan and Australia at the conference.
The presentation continues to be available online as an on-demand service, and will enjoy further exposure and profile with publication in a forthcoming issue of the ESC 365 journal.