Public Consultation on the Temporary Change to Emergency General Surgery at South West Acute Hospital
17/01/2023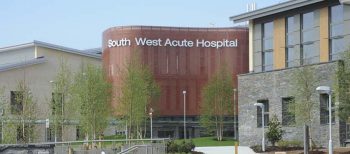 We are launching a 12 week public consultation on the temporary change to Emergency General Surgery at South West Acute Hospital, Enniskillen from week commencing 16 January 2023.
The Trust is seeking staff and the public's views on the temporary suspension of Emergency General Surgery at SWAH and will be facilitating seven face-to-face public engagements across the Fermanagh and Omagh Council area. Two virtual meetings will also be facilitated, as well as engagement sessions for staff.
The consultation will close in April 2023 and the outcome of the consultation will be considered at a Trust Board meeting in the Summer 2023.
It is important to note engagement events will be ticket only.  One ticket will be allocated per person and ticket duplication must be avoided to comply with health and safety regulations. To register to attend any of the events please see the table below.
Speaking about the consultation, Chief Executive Neil Guckian said:
"I accept this will be a concerning time for the local population.  I want to reassure people that our priority is to provide a safe, sustainable and effective Emergency General Surgery service for patients in the Western Trust area, ensuring safe services and the best outcomes for all patients.

"The main objective of this consultation is to see if an alternative viable means of delivering Emergency General Surgery at SWAH can be identified.  We would encourage the public and our staff to respond to our consultation which is available here or by contacting our Health Improvement Equality and Involvement office on T: (028) 71 865127

"A hybrid approach of both online and face to face engagement will be taken to enable an inclusive and well-managed approach to consultation events where there is likely to be a high level of public interest."
South West Acute Hospital Emergency General Surgery Public Session Events
Ticket only Public Session Events
District Electoral Area
Venue
Date and Time
Eventbrite Link (Registration)
Enniskillen
Fermanagh Lakeland Forum
30/01/23
6:30pm - 8:30pm
Register Here
Erne East
Castle Park Leisure Centre
31/01/23
6:30pm - 8:30pm
Register Here
West Tyrone
Ecclesville Centre
01/02/23
6:30pm - 8:30pm
Register Here
Erne North
Bawnacre Centre
02/02/23
6:30pm - 8:30pm
Register Here
Erne West
Belcoo Community Centre
07/02/23
6:30pm - 8:30pm
Register Here
Mid Tyrone
Owenkillew Centre
08/02/23
6:30pm - 8:30pm
Register Here
Omagh
Omagh Leisure Complex
09/02/23
6:30pm - 8:30pm
Register Here
Online Event 1
Online
08/03/2023
1:00pm - 3:00pm
Register Here
Online Event 2
Online
13/03/2023
7:00pm - 9:00pm
Register Here