Third Annual Fermanagh Learning Community Year 13 Careers Convention
26/02/2020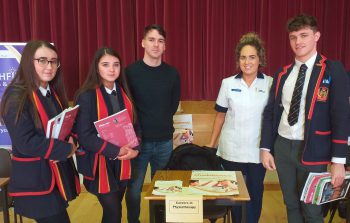 We were delighted to support the third annual Fermanagh Learning Community Careers Convention hosted at St Michael's College, Enniskillen on Tuesday 25 February 2020. The Fermanagh Learning Community is a group of schools dedicated to building support in the local area to provide advice and support to students who are deciding on their career pathways when leaving post primary education.
Over 450 Year 12 and 13 students from schools and colleges across Fermanagh and West Tyrone attended the largest local careers information event of the year.
Dessie Gamble, Fermanagh Learning Community Coordinator said: "I very much appreciate the support from Sean Carlin, Head of Careers at St Michael's College and Anne Love Western Trust Volunteer & Work Experience Manager for their dedication and commitment to the success of this event. With the support and commitment of local schools, colleges and our links to employers from health and social care, ICT and Engineering industries and businesses in the local area this has grown considerably over the past three years."
Dessie added: "This event also brings together the major Third Level providers and gives our students an opportunity to speak to recruitment staff and to get first hand advice on the processes they will need to follow when taking the next steps in their career pathway without having to travel to Belfast or further afield."
Anne Love MBE, Volunteer & Work Experience said: "This is a fantastic opportunity for local students who are considering a career in health and social care to speak to a wide range of staff from different disciplines who are working in hospital and community settings across the Western Trust area. I would like to thank all our staff for taking the time to attend today's event and for engaging with the students at each of the workstations". Anne added, "by chatting to staff, students receive plenty of advice and useful tips. We wish all the students every success in their future careers and hope that they will consider working within health and social care in their local communities".
In addition to Western Trust career events, students can register to volunteer which is a great way to gain valuable insight and develop new skills. If you would like to find more about volunteering, please contact Anne Love or Wendy Doherty on Tel: (028) 71611155 or email: wendy.doherty@westerntrust.hscni.net