Theatre Team launch Peer Support Service to help staff cope with traumatic or distressing events
21/07/2023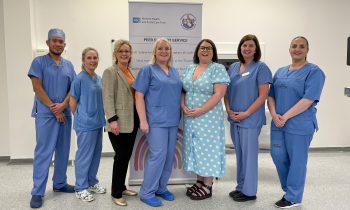 'Compassion is central to human wellbeing, benefiting those who give and those who receive it'. With this in mind, a new Peer Support Service has recently been launched by Altnagelvin Hospital's Theatre Team.
Peer Support is not a new concept, it is frequently used by emergency services teams in Northern Ireland and the Republic of Ireland. The idea to bring the model into practice in Theatres came from experiences shared by Theatre Nurse, Kathleen Coyne. The service was launched at the end of June 2023. It was following a Quality Improvement (QI) project undertaken by Kathleen Coyne, Lauren Brady and Tracey Wallace completed last year that the Peer Support Service model was formalised. It has now been launched and has been up and running since the end of June 2023.
The Peer Support Service is available to all theatre nurses and orderly staff at Altnagelvin Hospital and is activated by a traumatic or distressing event occurring in theatres, such as the death of a child, cardiac arrest, safeguarding issuing, staff injury and or a major trauma.
Speaking about the new service, Kathleen Coyne, Theatre Nurse, said:
"The idea to introduce this initiative is a long time coming, but with competing priorities and the challenges of the pandemic we found it difficult to find the time and space to take it forward.

"Rebuilding our service after the pandemic it was very apparent that we needed to focus on improving staff wellbeing. 180 staff were surveyed and the feedback was overwhelming. A Quality Improvement (QI) project looking at providing a critical stress management framework to support staff at risk of exposure to a traumatic event was undertaken. The aim was that by April 2023 100% of Theatre Staff would be offered Peer Support following exposure to a traumatic event in the workplace, in line with Western Trust's Staff Health and Wellbeing Strategy. This provided the motivation and validation to turn our ideas and enthusiasm into reality."
The Peer Support Service takes a two-tier approach. Once it has been activated there is a ten minute 'pause' and debrief of all multidisciplinary staff involved. There is then an option to receive a follow-up call within 24 to 48 hours of the event from one of the eight theatre nurses trained in (REACT, Suicide Awareness, Developing a Trauma Sensitive Approach to Practice and Adverse Childhood Experiences Awareness). The Theatre's Team will work with Occupational Health if further support is required following the first two interventions.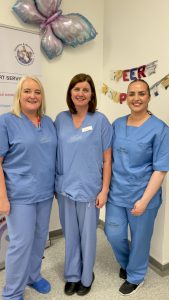 Kathleen continued:
"As we all know different things affect different people in different ways, so after the debrief not everyone will choose to receive a call, either way this will be offered and encouraged. One of the eight trained staff will arrange to speak to their colleague who has requested a follow-up call and it goes from there. Although this new model is now formalised within Theatres, the conversation and approach is kept quite casual and led very much by the person who has requested the support. At all times the information is kept confidential.

"Essentially the simple, yet effective, basis of peer support is that it allows people with similar experiences to support each other. Its foundation is set against an ethos of compassion and empathy. Experiencing compassion nurtures compassion towards others. It is hoped that by embedding the service within Theatres it will ultimately lead to improved staff wellbeing, moral and engagement."
Dr Joanne Gallagher, Consultant Psychologist said:
"I am delighted to lend my support to this pilot project, which exemplifies the compassionate culture within the Western Trust. This nurse-led initiative serves as an example of post-traumatic growth, an outcome emerging from the challenges of the pandemic, and I believe it will bring benefits to the entire team. By piloting this program, we aim to showcase its potential and undoubtedly learn, adapt, and implement it where feasible across other departments to bolster our staff's support network. As research has shown, peer support fosters cohesion, enhances wellbeing, and plays a role in staff retention."