SWAH All Party Group meet with staff and patients at South West Acute Hospital
13/06/2023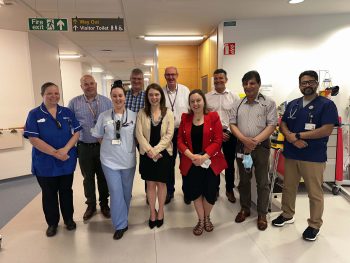 Staff at the South West Acute Hospital were delighted to welcome the SWAH All Party Group as they took time recently to tour the hospital and meet with staff and patients.
The All Party Group, which is made up of Public Representatives from across Fermanagh and West Tyrone, were joined by Western Trust Chief Executive Neil Guckian, Deputy Medical Director Professor Ronan O'Hare and Mark Gillespie Director of Planned Care Services.
The tour included visiting a wide range of wards and services at the hospital including the Emergency Department to see first-hand the high quality care and clinical expertise provided to patients from Fermanagh, West Tyrone and beyond.
The group heard how the hospital has experienced one of its busiest periods ever, with 9,153 patients being treated in the Emergency Department in the first three months of the year, over 29,000 outpatient appointments having taken place and over 540 patients being operated on at the hospital.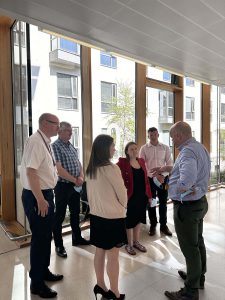 This was an opportunity for the group to hear directly from staff and what matters to them. Speaking with one of the Emergency Department Consultants, they were informed of the "excellent 24/7 access SWAH ED has to diagnostics. They said:
"This is the best ED I have worked in and I have no doubt it is one of the best on the island of Ireland. We have highly skilled nurses working alongside our doctors and nurses treating and caring for patients with a range of acuities."
Another Consultant Endocrinologist explained how
"welcoming and friendly staff were to them. The atmosphere has been great for me to work in, it has helped me settle in and relocate from a different country."
Other members of staff took the time to share their views and concerns on the negative narrative that continues publicly on the hospital.
One frontline staff member said:
"Staff feel they are getting criticised every week when they look at some of the social media sites and in particular the newspapers. They were all quick to applaud us during Covid and things are challenging but now it is horrible to constantly read so many negatives, they do not represent our staff here on the ground. They aren't looking at what we are doing. We all have to travel for healthcare nowadays to get the best service. For example, people are very happy to travel to Belfast for many things but won't travel for their surgery. It's hard to see the great work we are doing and it's not being recognised by the papers and the media reporting. We have such a committed and wonderful team. It is heart-breaking we have went from heroes to villains with this sustained negative newspaper reporting."
The group also took time to listen to patients and met with several who had travelled from throughout Northern Ireland to the hospital, stating
"they were happy to travel to SWAH to receive their surgery and treatment."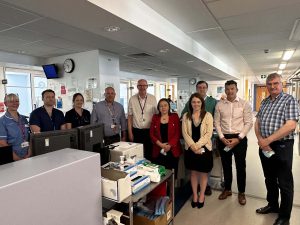 Chief Executive Neil Guckian, who set up the All Party Group said:
"We are delighted to have had the SWAH All Party meet our incredible staff at SWAH and see for themselves the first class services that our staff provide to our patients and clients. It was also very important for our staff to have the opportunity to share their views with their public representatives.

"The All Party Group also heard about the establishment of a new South West Acute Hospital Strategic Development Group which will be formed from a range of stakeholders to look at ways of consolidating and growing the hospital into the future.

"The South West Acute Hospital is a thriving hospital and the All Party Group can help us as we work towards maximising the potential of what is a fantastic facility. We will continue to engage with the group, as with all Public Representatives, and communicate closely on our developments."