Surprise Birthday Celebrations for Omagh Day Centre Service Users
08/07/2020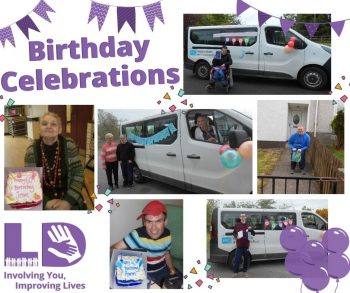 During COVID19 staff from the Omagh Day Centre visited service users to hold socially distanced birthday celebrations. As service users have not been able to attend the Day Centre, staff launched a 'Birthday Bus', decorated with balloons and banners to surprise service users at home on their birthday. Service users were delighted to see staff from the Day Centre and were thrilled with the socially distanced celebrations. (See gallery below)
Ryan Mc Cann, who attends Omagh Day Centre explained: "I would normally attend the Omagh Centre four days a week" but due to COVID19, Ryan has not been able to attend the centre, however he praised the Omagh Day Centre staff; Sean and Avril, who have been a great help during this time.
Ryan's sister Aisling paid tribute to the Omagh Day Centre staff;
I would like to say how much I appreciate Sean coming out and spending time with Ryan during COVID19 and how much Ryan enjoys his company and support during these surreal times. Avril and Sean surprised Ryan on his birthday and he was absolutely delighted and was chuffed when they showed him special videos from the Omagh centre staff!

I would like to also to say a word of thanks to Martina and the Omagh Centre Staff for keeping in touch and visiting Ryan on his birthday. Martina also brought Ryan cake and sweets to celebrate. This will definitely be a birthday Ryan will remember!

Everyone has went out of their way to make his birthday feel a lot more special and real during this pandemic! He is counting down the days until he can return to the Omagh Centre and use the services at Beltany House again as this is where he loves to socialise and enjoys the company of others apart from his family!

I would also like to say a word of thanks to all the other members of the Western Trust for their help and support we have received during this time. It has not went unnoticed – we are truly thankful and appreciate it all!