Supporting World Developmental Language Disorder Awareness Day 
15/10/2021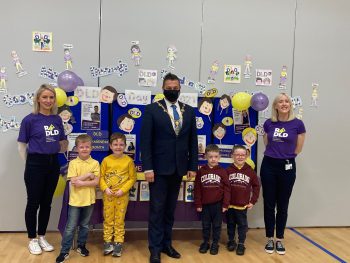 Our Speech and Language Therapy Team are delighted to support this year's World Development Language Disorder Awareness Day.
With 1 in 14 children around the world having Developmental Language Disorders (DLD) it is important to raise awareness as they sometimes feel invisible!  Friday 15 October 2021 has been dedicated as Developmental Language Disorder Awareness Day and we are calling on people around the world to use the hashtag #ThinkLanguage #ThinkDLD.
Imagine sitting in a classroom unable to understand what is being said but being expected to achieve the same as your peers?  Welcome to the life of the two children in the average classroom who are faced with this reality every day.  Limited awareness of DLD amongst educators and the general public means these children are being overlooked and the lifelong impact can be devastating.  This is tragic because with the right support people with DLD can thrive!
Raising Awareness of Developmental Language Disorder (RADLD) is an international organisation helping to increase awareness of this hidden, but common condition.  This year's campaign is 'Think Language Think DLD' and families, teachers, Speech and Language Therapists and other professionals are joining to make DLD visible to the world, because no one should feel invisible.
The Speech and Language Therapy Team in the Western Trust has joined the campaign to raise awareness of DLD so as many people in our Trust become aware of and understand this unknown but common condition.  The Mayor will be coming to the Speech and Language Therapy Class in Ebrington Primary School, Derry/Lononderry to launch DLD Awareness Day and meet the children in the class who have a diagnosis of DLD.  The international community is helping raise awareness of DLD by lighting up the world purple and yellow.  In October, the Council Buildings in Derry, Enniskillen Castle and the Strule Arts Centre in Omagh have been lighting up purple.  We want as many people as possible in the Western Trust area to talk about DLD!
Christine Harper, Western Trust Clinical Lead, Speech and Language Team for DLD explains:
'The Speech and Language Therapy Department are delighted to support DLD Awareness Day to help raise awareness of this hidden disability.  DLD results in a child or adult having difficulties talking and/or understanding language.  This is a lifelong condition that affects approximately two children in every classroom of 30, affecting literacy, learning, friendships and emotional wellbeing.  It is important to raise awareness of DLD to ensure that those affected can receive the support from professionals including Speech and Language Therapists and teachers, which can make a real difference to their lives.  Speech and Language Therapists have a crucial role to play in the diagnosis of DLD and in supporting people with DLD, along with their families and the professionals working with them, to understand their diagnosis, achieve their potential and reduce the impact of their difficulties."
Please visit the RADLD social media channels and share this year's #ThinkLanguage #ThinkDLD awareness video.  Visit www.RADLD.org for more information, or contact your Speech and Language Therapy Department in your local health centre.