Supporting wellbeing for Nursing Home Staff in the Western Trust
14/12/2022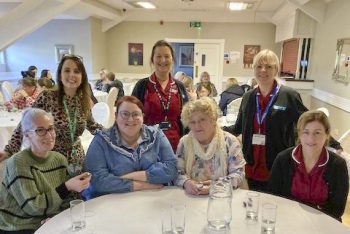 The Western Trust Macmillan Palliative Care Facilitators supporting wellbeing for nursing home staff in the Western Trust.
Teresa McCartan, Macmillan Palliative Care Facilitator, Western Trust explained: "The Macmillan palliative care facilitators in partnership with the care home support team hosted an event at the Mellon Hotel on the 24 November 2022.
"The aim was to provide an afternoon for care home staff to focus on wellbeing and self- care with recreational activities facilitated by Anne McCann from the Crafty Doll company.
"Over 30 care home staff including activity coordinators enjoyed lunch and making Christmas crafts which they in turn could make with the residents in their respective care homes.
"The event concluded another successful year of project ECHO for nursing home staff facilitated by the palliative care facilitators and the care home support team. Project nursing home ECHO provides a monthly community of practice via zoom for care home staff and a platform for support, education, reflection, shared learning and discussion. Feedback and evaluation of the project has been excellent and we look forward to next year.
"The event celebrated and acknowledged the valuable contribution in the provision of excellent care from the care home sector particularly over a challenging few years."