Supporting October Breast Awareness Month
08/10/2021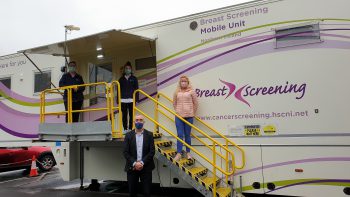 Our Breast Screening Service is supporting October Breast Cancer Awareness Month.
Marietta Connor, Lead mammographer said:
"We are delighted to be supporting October breast cancer awareness month by highlighting the importance of breast awareness and encouraging attendance at our mobile breast screening clinics when called so that any change can be checked out, and, if there is a problem this can be dealt with quickly!

"Breast Cancer is unfortunately very common but survival is very good, particularly if you are diagnosed early. The earlier breast cancer is diagnosed, the better the chance of successful treatment. So it's important to check your breasts regularly and see your GP if you notice a change.
Common breast cancer signs and symptoms include:
a lump or swelling in the breast, upper chest or armpit – you might feel the lump but not see it
a change to the skin, such as puckering or dimpling
a change in the colour of the breast – the breast may look red or inflamed
a change to the nipple, for example it has become pulled in (inverted)
rash or crusting around the nipple
any unusual liquid (discharge) from either nipple
changes in size or shape of the breast
Marietta added:
"On its own, pain in your breasts is not usually a sign of breast cancer. But look out for pain that's there all or most of the time. Noticing an unusual change doesn't necessarily mean you have breast cancer, and most breast changes are not because of cancer. But it's important to get checked by your GP.

"After last year's three month pause the screening service resumed and staff have worked hard to recover appointments and add additional capacity to ensure ladies receive their mammogram on time.

"The Trust currently have a mobile breast screening unit located at Causeway Hospital, Coleraine and a second at Dunnes Stores, Omagh.

We are very grateful to Dunnes Store Manager Chris Mc Mullan and his staff for all the support and help they have provided in allowing us to locate at the front of their store as well as offering us an opportunity to promote breast awareness at the Omagh store location in October.
Fiona Rankin Nurse Practitioner for the Family History service explained that the Family history clinic at Altnagelvin Hospital is one you can be referred to by your GP if you have close family history of Breast Cancer.
"If your family history places you at higher than usual risk of breast cancer the clinic will arrange breast screening at a younger age or more frequently than the National Health Service Breast Screening Programme.

"During these difficult times with COVID-19 it is important to know that the breast screening services is here for all women.  The breast screening programme which carries out a mammogram every three years for women from 50 to 70 age group is ongoing with additional measures in place to ensure your safety. Ladies over 70 can self-refer for this  screening every 3 years by arranging their own appointment with the unit.

"If you notice a problem in your breast your GP can refer you to the breast assessment clinic – all clinics were carried out at a somewhat reduced capacity through the pandemic and continue currently. Family History clinics for families with a history of breast cancer also continue to run.

"Be breast aware and if there are any changes- the breast team are here for you."