Supporting care home staff through 'Rainbow Boxes'
24/08/2020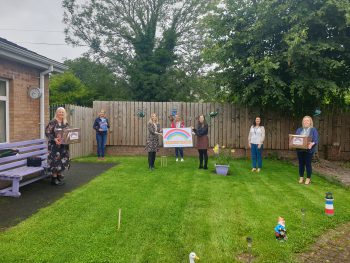 In acknowledgement of the high level of care delivered by local care homes under challenging circumstances during COVID, 'Rainbow Room' resource boxes are being delivered to 63 homes in the Western Trust area.  The initiative is being delivered through a collaboration led by the Health and Social Care Board (HSCB), Integrated Care Partnerships (ICPs), Public Health Agency (PHA), HSC Trusts and the Healthy Living Centre Alliance.  A working group was established for the West with representation from the Western Trust, local Healthy Living Centres, Western Integrated Care Partnership and a care home representative.
Rainbow Room boxes include health and wellbeing information and donated items from a range of local organisations including the Red Cross and Food Standards Agency which remind staff that their communities support and value them and that they are not alone.  It is hoped that homes will use these resources to set up a 'Rainbow Room' as a quiet space for staff to go when they need some time to reflect and practice self-care while caring for others.  The working group is surveying care home staff to identify further supports which would be useful and once the boxes are distributed will consider programmes which will support the health and wellbeing of care home staff in the longer term.
Tony Doherty, Regional Coordinator with the Healthy Living Centre Alliance and Chair of the Northern Sector Western Integrated Care Partnership stated: "We are proud and glad of our key role in this initiative. Care Home staff have experienced extreme difficulties during the pandemic. The Rainbow Box is a symbol of our solidarity and appreciation to all of them. I am grateful that many Healthy Living Centre managers and staff stepped up to the plate across the region to bring solace and inspiration to others during these most trying times."
Louise McCloskey, Manager of Longfield Nursing Home who represents care homes within the local working group said: "I would like to thank everyone for their efforts in this project as I think it is important we support our staff who have been exceptional throughout this pandemic by rewarding them for all their kind efforts supporting residents through these challenging times.  I think it is fantastic we are in a position to dedicate a room for staff to take time out for reflection away from all their daily pressures and responsibilities. This initiative will help strengthen relationships between community organisations and care homes, ensuring these links remain in place and continue to grow going forward.
Helen Mc Connell, Western Trust Care Home Support Manager highlighted: "The Rainbow Room initiative is a wonderful example of bringing together voluntary, community, HSC and independent sector working in partnership to recognise the dedication and commitment of our care home staff during this pandemic.  This is a token of our ongoing support for future collaborative working."