Successful Children and Young people in Care Events #CareDay23.
20/02/2023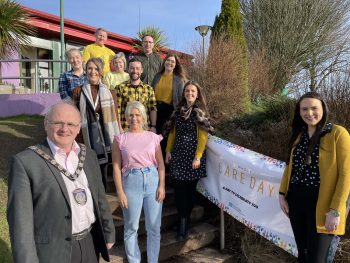 Care Day was established in February 2016 as a day to celebrate the positive experiences and contributions of children and young people in care or with care experience.
This year, we held two successful events in Templemore Sports Complex, Derry/Londonderry and another in the Bawnacre Centre, Irvinestown, Co Fermanagh on Friday 17 February 2023. Events were attended by all those with a care experience and their Carers.
The theme of our day was a 'Festival of Fun' with activities for age groups 0-10 years, 11-15 years and 16+ such as a bouncy castle, crafts, games and beauty treatments.
Natasha Duddy, Head of Service for Looked After Children at the Western Trust said:
"To celebrate #CareDay23, the we invited people to learn about children and young people in care and embrace their diverse stories of hope, courage, talent, and achievement. We want communities to listen to our children and young people themselves and to see that every care-experienced child and young person is an individual with their own unique story, ambitions, and dreams for the future.

"On behalf of the Western Trust, I would like to acknowledge the kindness and generosity offered by our Family and Child Care staff and our partner agencies; The Mayor's Office, Local Councils, Education Authority, Regional Colleges, Youth Justice Agency and Local Youth Groups to support Care Day. A special thank you to those community businesses who also provided food/refreshments and prizes on the day.

"The Trust is delighted all our children and young people had a great day to celebrate their extraordinary talents and unique gifts. Thank you!"
"Remember. Every day, some ordinary person does something extraordinary. Today, it's your turn." Lou Holtz