Statement Industrial Action | Tuesday 21 February
20/02/2023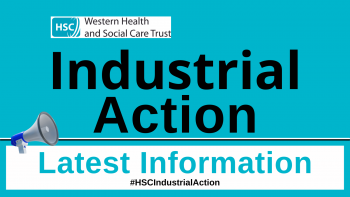 Industrial Action will take place on Tuesday 21 February 2023 for 24 hours (00:01hrs until 23:59hrs) for GMB, NIPSA and Unite Trade Union members. Industrial Action will also take place for Unision Trade Union members for 12 hours (08:00hrs to 20:00hrs).
The Western Trust is currently in the process of making direct contact with the patients and service users who will be impacted by the industrial action. If you have not been contacted, please assume your appointment/service delivery will proceed as normal on Tuesday.
Impact is as follows:
Homecare services. We are aware that a significant number of service users in receipt of Homecare may not receive their scheduled calls, between the hours of 00:01hrs until 23:59hrs, if it is delivered by the Western Trust. We are asking for the help of family members and carers to assist us during these times by checking in with their relatives / neighbours that receive Homecare services. Should an issue arise please call the local Homecare office on the following numbers: Northern Sector (Derry, Limavady, Dungiven) – (028) 7186 4385; Fermanagh (028) 6634 2414 or Strabane Castlederg and Omagh (028) 8283 5911. Homecare services delivered by our contracted providers are not expected to be affected.
The following Learning Disability Day Centres will be closed all day: Oaktree Day Centre, Valley Centre, Evergreen Centre, Rossville Centre, Strathroy, Fresh Focus, Old Tempo Road and Fresh Focus Cross Street.
Drumcoo Physical and Sensory Disability Day Centre will be closed on Tuesday 21 February.
Melrose Adult Mental Health Day Centre will be closed on Tuesday 21 February.
487 Outpatient appointments have been postponed across our three hospital sites. A number of Endoscopy appointments and planned procedures have also been postponed. The Trust is currently in the process of re-booking the appointments and procedures.
Significant impact to Family and Childcare services is anticipated. This service will be operating a bank holiday arrangement. Only emergency childcare requests will be responded to. In emergency situations please contact, The Gateway Team, telephone: 028 7131 4070
Laboratory and Hospital Pharmacy services will also be limited. The Trust's labs will be operating a bank holiday service arrangement with capacity only for urgent samples. Patients who collect medications directly from the Trust's Pharmacy Department's at both Altnagelvin Hospital and the South West Acute Hospital may experience delays and should if possible avoid collection on Tuesday.
The Trust continues to work with Trades Union colleagues to protect our critical services and to try and minimise the impact of industrial action on our patients and service users.