Spring 2022 Programme of Involvement Webinars
08/02/2022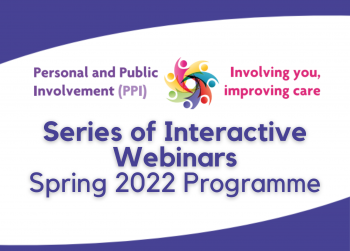 The Public Health Agency, in association with The Consultation Institute, are delighted to offer a series of four webinars relating to Rebuilding Health and Social Care and the COVID19 pandemic.
The sessions, hosted by HSC Involvement and Co-production staff, the webinars include:
What can we Learn from COVID19?
How do we reach the 'seldom heard' and now the 'selfdom online'?
Can the HSC contribute to mitigating the Climate Emergency?
Planning your Consultation- Ten Top Mistakes commonly made
Download the flyer for more information.
To register your interest in attending please email ppi.secretary@hscni.net