South West Acute Hospital remains an Acute Hospital with a Type 1 Emergency Department
28/02/2023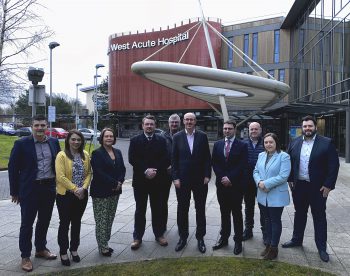 New All-Party Group for South West Acute Hospital welcomes new Emergency Medicine Consultant to Emergency Department.
Western Trust Chief Executive, Neil Guckian, has launched an all-party group for South West Acute Hospital as part of an overall campaign to promote our fantastic hospital as a Great Place To Work. In addition, the group will engage regularly to look at ideas to help develop services as well as recruit, retain and build our workforce.
Trust Senior Leaders on the group include Chief Executive, Neil Guckian; Medical Director, Brendan Lavery; Director of Planned Care, Mark Gillespie and Associate Medical Director, Professor Ronan O'Hare. At the latest meeting in South West Acute Hospital, along with representatives from the five main political parties, Trust Senior Leaders also welcomed the latest appointment as a Consultant in Emergency Medicine to South West Acute Hospital Emergency Department, Dr Stephen McKenzie.
Dr McKenzie, a former student at St Michael's Primary School and then St. Michael's College, Enniskillen, commented:
"I am delighted to take up my first Consultant post here at South West Acute Hospital, having qualified from Queen's University and trained throughout Northern Ireland in the foundation programme and then the specialty training programme in Emergency Medicine.

"I have always wanted to work in emergency medicine and it is great to come back to work here in Fermanagh, where I live with my wife and two children, to this wonderful hospital. I worked here before as a foundation trainee, and was very aware that the facilities and high-tech equipment in SWAH is second to none. This is a really great place to work – the Emergency Department team are amazing and there are exceptional medical, nursing, AHP and support staff here."
Dr Ian Crawford, Consultant in Emergency Medicine and Clinical Lead for Unscheduled Care, joined the group where it was re-iterated that South West Acute Hospital remains an Acute hospital with a Type 1 Emergency Department, as confirmed in the Department of Health official statement.
---
South West Acute Hospital remains an Acute Hospital with a Type 1 Emergency Department
This has been further emphasised in an Official statement from the Department of Health, as follows:
"The suspension of emergency general surgery from South West Acute Hospital does not change its Type 1 ED status or the acute status of the hospital.

"The definition of a Type 1 Emergency Department is 'A consultant-led service with designated accommodation for the reception of emergency care patients, providing both emergency medicine and emergency surgical services 24 hours a day.'

"No hospital in Northern Ireland provide all types of emergency surgical services and the definition does not require this. Even the larger hospitals with very busy EDs do not provide everything.

"In line with the definition, emergency general surgery is not a pre-requisite. What is required is emergency surgical services. The temporary (as currently the case in South West Acute Hospital) or permanent (as proposed for Daisy Hill Hospital) suspension of emergency general surgery is not a removal of emergency surgery and those changes will therefore not impact on the type of ED which it is.

"This is not a new policy position. It reflects existing policy."