Second doses help drive 150,000 jab landmark
20/05/2021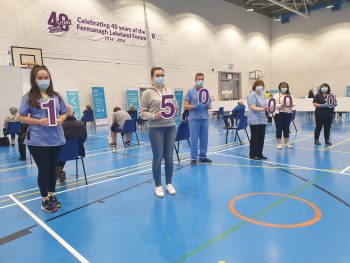 We have successfully administered over 150,000 doses of the COVID-19 vaccine, helped in large part by public take up of second jabs.
The latest milestone has come during a busy period for the Mass Vaccination Programme as the Department of Health announced earlier this week that Northern Ireland had passed the one million mark for vaccines dispensed (with approx. 15% of all doses administered by the Western Trust).
This week the Department also announced that the vaccination programme was now open to those aged 25 to 29, as anyone born between 01/05/91 and 31/07/96 can now book an appointment at one of the Trust vaccination centres across Northern Ireland.
Western Trust Director of Director of Performance & Service Improvement and Vaccine Programme Lead, Teresa Molloy, said:
"This latest milestone is truly a fantastic achievement and I firstly want to acknowledge the incredible efforts of our dedicated vaccination teams right across the Trust's geography and to acknowledge the support of our two local Councils for working in partnership with us through the use of their facilities.

"The administration of 150,000 doses by the Western Trust has come some five months after the very first COVID-19 vaccine jab was administered in NI and means that almost 70% of the adult population has now received their first dose.

"It also comes just days after another landmark was achieved – with more than half a million people in Northern Ireland already getting their second jab. To ensure that we can maintain our fantastic rate of progress we would encourage everyone who is entitled to take up their second jab also.

"Our staff, volunteers and partners have been working tirelessly to ensure that we have vaccinated the most vulnerable and high-risk people in our communities. To date we have successfully provided vaccines for care home residents, health and social care staff, and those who are clinically vulnerable.

"Added to this we have vaccinated carers over 18 and all those within the JCVI approved age groups.

"Most of our work is now going to be vaccinating people with their second doses, and that is well underway.  There are now more and more ways for people not yet vaccinated to have access to their 1st dose and we would reiterate to the public to help us continue our work by taking up their second dose appointments where scheduled.

"Everyone who takes up both doses of the vaccination is helping keep their family, friends and the wider community safe from the worst effects of Covid and helping us all to move towards getting life back to some degree of normality. We urge everyone who has yet to receive their invitation to take up the offer."
The successful programme is being delivered through a range of initiatives, including the operation of three vaccination centres, located at Foyle Arena Derry/Londonderry, Omagh Leisure Centre and Lakeside Leisure Centre, Enniskillen.
All three Mass Vaccination centres have been set up in partnership with Derry City and Strabane District Council and Fermanagh and Omagh District Council through a collaborative working agreement.
The Trust has also facilitated vaccination delivery through its District, Community and mobile Nursing teams who have reached out to vaccinate specific vulnerable groups, including those in care homes, in supported living and members of the homeless community.
This impressive achievement has been delivered through the coordinated efforts of Western Trust staff working closely with Multi-Agency groups and volunteers from across the Trust area.
Those who  meet the eligibility criteria can book their vaccination by visiting the online booking portal https://covid-19.hscni.net/get-vaccinated/; or by calling the regional booking line on 030 0200 7813 from Monday to Friday from 8.30am to 5.30pm.
Anyone invited to attend one of the Mass Vaccination Centres is reminded to wear a face covering (unless exempt for medical reasons), adhere to social distancing rules and bring along their booking reference number, ID and, if possible their Health and Care Number (HCN).