Rowan Villa's Football Club celebrating 15 years milestone bringing fitness, friendship and fun
17/07/2023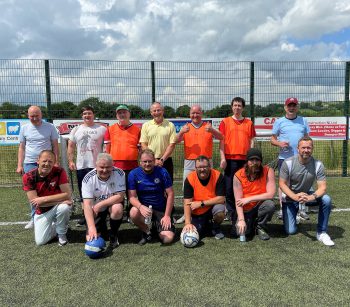 Our Adult Mental Health Day Care Facility at Rowan Villa, Tyrone and Fermanagh Hospital site, Omagh in partnership with Inspire Wellbeing, Omagh are celebrating Rowan Villa Football Club's 15 years milestone bringing fitness, friendship and fun which continues to grow from strength to strength.
The Rowan Villa Football Club have been meeting up every Tuesday afternoon in Omagh to enjoy the social and physical benefits of playing football in a warm, friendly environment.
Sean McCullagh, Senior Nurse, Adult Mental Health Services at the Western Trust explained:
"The Rowan Villa Football Club has been going from strength to strength over the past 15 years and the numbers have increased each week. A lot of the men who joined the Football Club are socially isolated and are able to come every Tuesday to Maine Football pitch when the weather is sunny or at Station Centre in Omagh when it's very wet!
Sean added:
"We run this football club in partnership with Inspire Wellbeing and a very grateful to Mark Dodds for coming out each week to pass on his knowledge and skills as a football coach. This club can be a lifeline for these men as the physical as more importantly the mental health benefits cannot be underestimated. Many of these men live on their own and are socially isolated and would not have contact with anyone else apart from coming to this group on a Tuesday afternoon. It builds friendships, team working and overall self-esteem and we hope this continues to grow and provides a social outlet for years to come.

"We are always looking for more people to join the football club and would welcome any of our service users who are supported by a community mental health nurse attached to the Community Mental Health Recovery Team who would be interested in joining to please speak to their key worker or contact Rowan Villa on T: (028) 8383 5310 to find out more."
Mark Dodds from Inspire Wellbeing said: "We are very privileged to work in partnership with the Western Trust to deliver this football club for these young men from the Omagh area. We are able to pull our resources and skills to enable this group to meet on a weekly basis.
Mark continued:
"Not only have the men developed football skills but more importantly they have developed skills such as team work and connection with other people. I am a football coach and this is a real passion of mine and I enjoy sharing my skills and developing the confidence of the men who come to the club. For some men this might be the first time they have played football and it is wonderful to see how much their skills develop and the great enjoyment they get from playing this great sport."
Damien Davies, Rowan Villa Football Club member said:
"The Club is first class with brilliant staff and clients. We are all very friendly and welcoming and look forward to seeing new members join our team very soon!"