Revised Visiting Guidance for Western Trust Care Facilities from Monday 1 March 2021
27/02/2021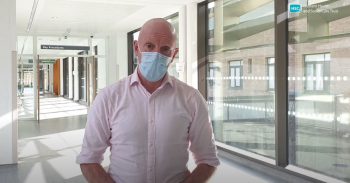 Following guidance set out by the Department of Health, the Western Health Trust has confirmed changes to visiting arrangements for all care settings, which will apply from Monday 1 March.
The measures have been agreed after all four UK Chief Medical Officers recommended that the Regional Alert Level should move back from Level 5 to Level 4 with immediate effect.
As a result, the visiting restrictions for all care settings across Northern Ireland will revert to those applying at Level 4 from Monday 1 March 2021 and full details are listed in the attached guidance (click the link to PDF below).
From Monday 1 March:
One person may visit for up to one hour once a week, unless otherwise specified in a certain service or area.
In Hospice Facilities this is one family member or carer to be permitted access to visit for up to one hour daily, where the environment is COVID secure.
See definition by service in the DoH Visiting Guidance summary below.
Click on the link below for information on visiting in each service area and setting
You can also continue to arrange a 'virtual visit' with your relative or friend on a smartphone or tablet. Our hospitals have access to free Wi-Fi and our staff can help set this up. Please be patient. Our staff will have to prioritise clinical work and patient care.
Please remember that all measures continue to be implemented to protect patients and staff and everyone who visits our facilities should be respectful of all our staff who dedicate themselves to caring for others and saving lives. Please remember there is a zero tolerance policy in place across all Trust facilities, with respect to verbal and physical abuse towards any member of staff.
The guidance will be kept under constant review and revised as appropriate and given situations can change quickly in any individual clinical setting, the oversight and management of the guidance will always be the responsibility and discretion of the nurse in charge of each clinical facility.