Respiratory Services named Asthma/COPD Project of the Year
18/10/2021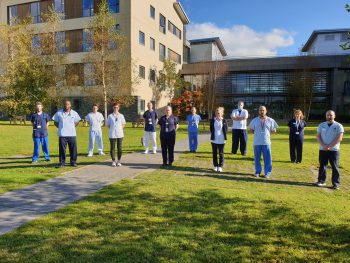 There was success for the Western Trust at the 22nd annual Northern Ireland Healthcare Awards as the Trust's Respiratory Services Team won the Asthma/COPD Project of the Year Award.
The accolade was awarded to the Team for Optimising Respiratory Services in the Setting of COVID-19.
Respiratory Consultant at the South West Acute Hospital, Dr Terence McManus, accepted the award on behalf of the team who were able to receive the award in person for the first time since the beginning of the Covid-19 pandemic.
Dr McManus said:
"'We have an excellent multidisciplinary Respiratory team and are grateful for this recognition for all their hard work in maintaining and developing Respiratory services during this pandemic."
Following the transition of last year's event online in response to COVID-19 restrictions, the region's healthcare professionals were once again able to come together in-person and be publicly recognised for their excellence throughout the last 18 months and beyond.
Belfast's Europa Hotel was the venue of choice for the 2021 ceremony, with esteemed journalist Sarah Travers taking the helm as host and commanding the 150-plus audience which encompassed a mix of the sector's professionals, students, and key industry representatives, including Health Minister Robin Swann and Chief Pharmaceutical Officer Cathy Harrison.
Over the course of the evening, the title-holders of the 10 competitive categories were announced, including Asthma / COPD Project of the Year and Community Pharmacy Practice of the Year.
Rounding off the proceedings was the announcement of the 2021 Special Recognition Award honouree – which, for the first time, was dedicated to Northern Ireland's entire healthcare community in tribute to their collaborative efforts, commitment and resilience in the face of unprecedented COVID-19 pressures.
The Health Minister accepted the award on behalf of the sector and paid tribute to their contributions to patient care during this difficult time.
Throughout the evening, funds were also raised for this year's nominated charity, Addiction NI.
All the winners will be featured in the forthcoming edition of Northern Ireland Healthcare Review, while the exclusive pictures can now be viewed online by visiting www.nihealthcareawards.info.