Recruiting Neonatal Nurses, South West Acute Hospital, Enniskillen
11/05/2022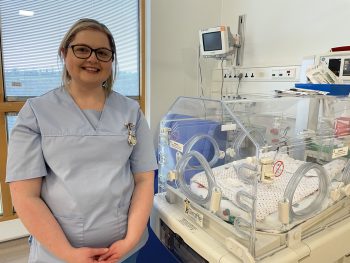 We are seeking to recruit Neonatal Staff Nurses at Band 7, Band 6 and Band 5 into our friendly unit at the South West Acute Hospital, Enniskillen.
We want to invite applications from nurses to support and develop a Family Integrated Care (FIC) model of care, so that we can empower parents and work in partnership with local families of babies born in South West Acute Hospital. This is an exciting time for us as we hope to be the first 'FiCare' unit in Northern Ireland.
We have vacancies for experienced neonatal nurses (Qualified in Speciality) and also welcome nurses wishing to develop a career in this field. We offer a supportive learning environment for those who may wish to progress their career further and undertake neonatal modules in the future. We work closely with our neighbouring regional LNUs where we can also support those wishing to maintain and develop their clinical skills.
We will also support you through the neonatal course to facilitate career progression to Band 6 and Band 7 positions.
If you are not currently registered with the Nursing and Midwifery Council (NMC), the we will support you through this process.
For further information please contact Nuala Colton, Head of Service nuala.colton@westerntrust.hscni.net or Mary Mc Kenna, Assistant Director on mary.mckenna@westerntrust.hscni.net
Application forms, criteria and job descriptions can be downloaded from the website:
Apply for Band 5 Neonatal Nurse
Apply for Band 6 Neonatal Senior Staff Nurse 
Apply for Band 7 Neonatal Sister/Charge Nurse