Recovery College Launches Spring 2020 Prospectus
03/02/2020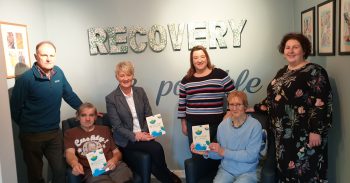 Our Recovery College has this week launched their Spring 2020 prospectus which details their new timetable. This term the Recovery College is offering free courses and workshops on 25 different topics relating to mental health and wellbeing in various locations throughout the Western Trust area; Londonderry, Enniskillen, Omagh and Strabane.
All courses are written and delivered by people with lived experience of mental health issues alongside those with professional experience and knowledge. The College strives to promote hope and self-awareness; increase understanding of particular conditions and treatments; and encourages self-management with an emphasis on taking back control.
Courses are open to all – those who use services, people with mental health issues whether diagnosed or otherwise, carers and supporters, students, health professionals – in fact anyone who is interested in good mental health.
The term commences at the beginning of March 2020 and registration for the courses is essential. Click on the buttons below to check out the new Spring 2020 Prospectus and enrol today.
For more information please contact the Recovery College Tel: 028 8283 3292.