Recovery College Launches Autumn 2022 Prospectus
01/09/2022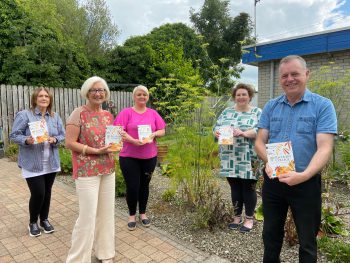 Our Recovery College has this week launched their new Autumn 2022 prospectus which details the wide range of courses relating to mental health and wellbeing available this term relating to mental health. We look forward to welcoming participants to our popular face to face courses running in Derry/Londonderry, Enniskillen, Limavady, Omagh and Strabane as well as evening courses delivered via Zoom.
Yvonne Cairns, Co-ordinator who has recently taken up the role as Recovery College Co-ordinator at the Western Trust said: "I am delighted to take up the role of Co-ordinator having been involved with the Recovery College since its inception. The College grows from strength to strength and I am excited to formally welcome two new Peer Educators Dermot Brady and Joanne McMaster to our team.

"We are eagerly looking forward to the start of the Autumn 2022 term and meeting our new students and welcoming back familiar faces. Our courses are free and open to all – those who use services, people with mental health issues whether diagnosed or otherwise, carers and supporters, students, health professionals – in fact anyone who is interested in good mental health. The courses are co-designed and co-facilitated by people with lived experience of the topic along with a health professional so a broad perspective and understanding is offered. We are grateful to all those individuals who have given and continue to give their time, experience and knowledge to the Recovery College – who feel compelled to share the message of recovery – hope, control and opportunity.

Yvonne continued: "As we move closer to the change in seasons and the new term, let's look forward to the opportunities that this brings – sure in the knowledge that all of us at the Recovery College will be there with you on your journey."
To find out more or to register for one of our classes please see dates and times for Information and Registration Sessions across the Western Trust geography below:
Strabane – Thursday 8 September, 11am – 1pm, Melvin Sports Centre
Omagh – Monday 12 September, 11am – 1pm, Recovery College, Lisnamallard
Derry/Londonderry – Tuesday 13 September, 1pm – 3pm, Holywell Trust, Bishop Street
Enniskillen – Wednesday 14 September, 1pm – 3pm, Fermanagh House
Limavady – Wednesday 14 September, 1pm – 3pm, Roe Valley Arts and Cultural Centre
The term commences week beginning Monday 19th September, 2022 and registration for the courses is essential. Anyone who would like to register or find out more information please contact the Recovery College Tel: 028 82833291 or 028 82252079, or email recoverycollege@westerntrust.hscni.net
View the prospectus and download the application form.