Project to tackle period poverty – "from Limavady to Lisnaskea"
28/04/2021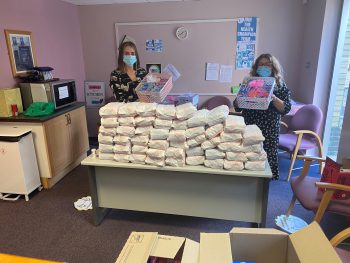 A project which aims to tackle the issue Period Poverty "from Limavady to Lisnaskea" has been launched with the support of the Western Trust.
Period poverty is the lack of access to sanitary products and/or having a poor knowledge of menstruation, often due to financial constraints.
This can be caused by a wide range of reasons, but ultimately period poverty can negatively impact on a girl or woman's ability to access sanitary products to manage a most intimate and regular occurrence in her life.
Earlier this year our Family Intervention Social Work Team  sought funding to develop a small project to address the issue of period poverty across the Western Trust area.
W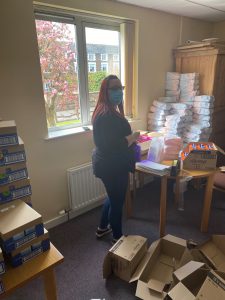 ith funding secured the team were able to purchase a total of over 54,000 period products, which were sourced with the help of a small local family run chemist in Limavady, called Gormleys Pharmacy.
When the products arrived the Family Intervention Team voluntarily worked on a Saturday to bag the items and prepare them for distribution across the Trust area via the Trust's own transport teams.
The end result was over 5000 individual sanitary packs successfully distributed across the Trust area – from Lisnaskea to Limavady – and delivered to girls and women who access services in the statutory child care sector.
Charene Scott, Social Work Manager said:
"It's important to remember that period products are every bit as essential as other "essential" items that we take for granted – such as hand soap, handtowels and toilet roll, all of which we can freely access in any public building.

"Women and girls can't 'opt out' of having periods, but we can 'opt in' to highlighting the need for a more equitable system that provides better access for those in need and that's why we thought it was very important that we do something proactively to address the issue of Period Poverty in the Western Trust area.

"Many families experience this issue as a type of "hidden poverty", which can present simply as feeling required to prioritise other essentials. You will see from our video that this has a huge impact on girls' social and emotional well-being as well on their education, and this is something we are committed to continue working towards to address."
Those girls identified as most in need of support have been provided with access
to several months' supply of period products through the project.
One of the key drivers behind this project was for the Family Intervention Team to raise awareness of the prevalence of this issue and reduce stigma, in the hope that girls and woman experiencing period poverty can reach out for help if it is needed.