Prime Minister Welcomed to Fermanagh Vaccination Centre
12/03/2021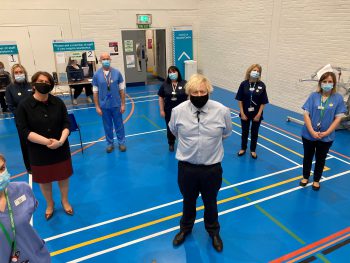 Our Chief Executive, Dr Anne Kilgallen, has today welcomed the visit of Prime Minister Boris Johnson to the Lakeland Forum Mass COVID-19 Vaccination Centre in Enniskillen.
The delegation, which included Secretary of State, Brandon Lewis, First Minister Arlene Foster and Health Minister Robin Swann, were there to witness first-hand the efforts of the Western Trust Vaccination Team, overseen by the local Western Trust Vaccination Centre Coordinator, Garrett Martin.
Speaking during the visit, Dr Kilgallen, said: "On behalf of the Western Trust I would like to warmly thank the Prime Minister and the rest of the delegation for taking time out of their busy schedules to visit us today here at the Lakeland Forum in Enniskillen."
"Our staff have been working extremely hard since the vaccination programme was launched in January this year, with over 70,000 doses administered across the Trust Area to date and over 13,000 here in Enniskillen alone.
"This visit represents true recognition of the scale and value of their combined efforts and I, like everyone else within the Trust would like to express my heartfelt thanks to each and every one of them."
The Western Trust is operating three vaccination centres, located at Foyle Arena Derry/Londonderry, Omagh Leisure Centre and Lakeside Leisure Centre, Enniskillen.
Those who  meet the eligible criteria for vaccination can now book their place by visiting the online booking portal https://covid-19.hscni.net/get-vaccinated or by calling the regional booking line on 0300 200 7813 from Monday to Friday from 8.30am to 5.30pm.
Those within the Western Trust area can also call the local booking line on 028 7161 0753.
Anyone invited to attend one of the Mass Vaccination Centres is reminded to wear a face covering (unless exempt for medical reasons), adhere to social distancing rules and bring along their booking reference number, ID and, if possible HSC number.